Realising the Full Benefits of Automation in Clinical Diagnostics
Automation solutions provide a range of capabilities, such as clot detection with whole blood samples, full walkaway operations with a minimum amount of manual interactions, and LIMS connectivity. Customers can easily integrate their LC-MS/MS and HPLC assays into automated systems using automation dedicated CE-IVD compliant assays. The kits provide everything you need; from the sample prep, through to the separation and analysis.
| | |
| --- | --- |
| Assay* | Parameters |
| Biogenic Amines | Catecholamines, metanephrines, VMA, HVA, 5-HIAA, serotonin |
| Chronic Alcohol Abuse | CDT |
| Osteoporosis | Crosslinks, vitamin D3/D2 |
| Therapeutic Drug Monitoring of Immunosuppressants | Cyclosporin A, everolimus, sirolimus, tacrolimus |
| Therapeutic Drug Monitoring | Antiepileptic drugs, benzodiazepines, mycophenolic acid etc. |
| Occupational Medicine | 1-OH-Pyrene |
| Vitamin Profiling | Vitamin A/E, vitamin B1/B6, vitamin C, vitamin D3/D2 |
If you think of automating your clinical HPLC and LC-MS/MS assays, you should also ensure that you get the support you need from a single source — regardless of which automated system(s) you look to implement in your lab. Our team is very experienced in installing automation solutions and knows most of the common LC-MS/MS, HPLC and liquid handling systems inside out. They can also help you to get the most out of your instrumentation, even if you have already installed an automated system.
MassSTAR: Fully Validated Workflows
In cooperation with Hamilton, Chromsystems has also developed MassSTAR - a solution that combines validated kits with a system and software in one complete CE-IVD workflow. It enables laboratories to fully automate their sample preparations when testing vitamin D in serum and plasma, as well as immunosuppressants from whole blood samples. As part of our continued development effort, we have also added vitamin C to the MassSTAR portfolio.
One key component of MassSTAR is the fully integrated instrument software that guides the user through an easy-to-use graphical user interface (GUI). For example, the number of reagents required for the desired number of samples is calculated. A later report shows the success of the sample preparation and includes the detection of clotting — something which is particularly important for the processing of whole blood samples.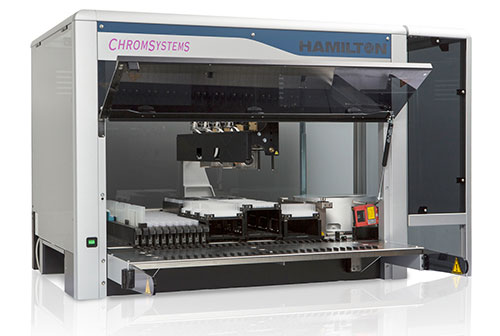 Figure: Fully Automated Workflows with MassSTAR
Automation – with the Support You Need
The liquid handler provides a range of capabilities such as clot detection with whole blood samples, full walkaway operations with a minimum amount of manual interactions required from staff, and LIMS connectivity. However, transferring methods from the manual to the automated mode, or troubleshooting, can be a complex matter. Our scientific service staff can help you to find the solution that is right for your laboratory, regardless of which instrument and automation suppliers you choose.
If you need assistance with automating your LC-MS and HPLC workflows, our support team can help you to make the most out of the instrumentation. Reap the benefits of automation and get in touch with us, or by checking out our portfolio in automation.
* products are not available in all countries.