MassSTAR - robotic solution for clinical LC-MS/MS
CE-IVD validated workflows
Walkaway solution with standardised hardware and software
Full traceability and regulatory compliance
Graphical User Interface (GUI) for simple handling
The test menu is continuously updated and expanded
Certification according to IVDR in preparation
MassSTAR is a CE-validated full walkaway solution specifically designed for automating clinical LC-MS/MS sample preparation with Chromsystems assays.
The assays offer in combination with MassSTAR a standardised CE-IVD-conforming workflow for clinical laboratories soon also in line with IVDR. Depending on the assay, MassSTAR allows the sample preparation of up to 288 samples per batch. The solution has been developed with clinical laboratories in mind, offering user comfort, regulatory conformity and flexibility.
Instrumentation and assays are comprehensively supported by the Chromsystems scientific support team with extensive experience in automated clinical LC-MS/MS.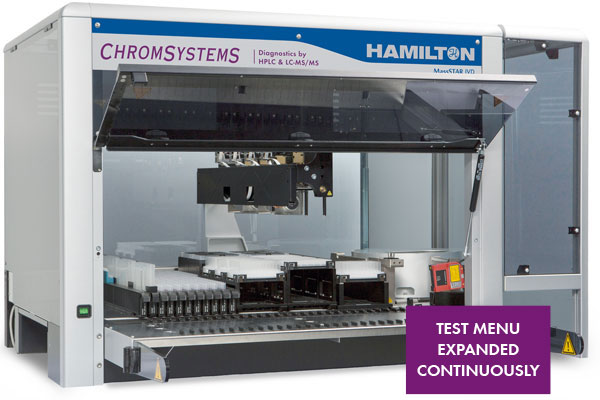 ---
The complete MassSTAR testing menu
MassTox® TDM Series A
Antidepressants 1/EXTENDED (order no. 92713/XT)
Citalopram, N-Desmethylcitalopram, Duloxetine, Fluoxetine, Desmethylfluoxetine, Fluvoxamine, Mirtazapine, N-Desmethylmirtazapine, Paroxetine, Sertraline, N-Desmethylsertraline, Venlafaxine, O-Desmethylvenlafaxine
Antidepressants 2/Psychostimulants/EXTENDED (order no. 92715/XT)
Atomoxetine, Bupropion, Erythro-Dihydrobupropion, Threo-Dihydrobupropion, Hydroxybupropion, Clomethiazole, Dosulepin, N-Desmethyldosulepin, Methylphenidate, Mianserin, Milnacipran, Moclobemide, Opipramol, Reboxetine, Ritalinic acid, Tianeptine, Tranylcypromine, Trazodone, Vilazodone, Vortioxetine
Antiepileptic Drugs All-in-One Method (order no. 92721/XT)
Brivaracetam, Carbamazepine, Carbamazepine-10,11-epoxide, 10-OH-Carbamazepine, 10,11-Dihydroxycarbamazepine, N-Desmethylmesuximide, Ethosuximide, Felbamate, Gabapentin, Lacosamide, Lamotrigine, Levetiracetam, Oxcarbazepine, Perampanel, Phenobarbital, Phenylethylmalonamide (PEMA), Phenytoin, Pregabalin, Primidone, Rufinamide, Stiripentol, Sultiame, Theophylline, Tiagabine, Topiramate, Valproic acid, Vigabatrin, Zonisamide
Antimycotic Drugs/EXTENDED (order no. 92722/XT)
Anidulafungin, Caspofungin, Fluconazole, 5-Flucytosine, Isavuconazole, Itraconazole, Hydroxyitraconazole, Ketoconazole, Micafungin, Posaconazole, Voriconazole
Mycophenolic Acid (order no. 92716)
Mycophenolic acid, Mycophenolic acid glucuronide
Neuroleptics 1/EXTENDED (order no. 92712/XT)
Aripiprazole, Dehydroaripiprazole, Clozapine, N-Desmethylclozapine, Haloperidol, Olanzapine, N-Desmethylolanzapine, Quetiapine, Norquetiapine, Risperidone, 9-OH-Risperidone
Neuroleptics 2/EXTENDED 2 (order no. 92714/XT2)
Amisulpride, Benperidol, Brexpiprazole, Bromperidol, Cariprazine, Chlorpromazine, Chlorprothixene, Flupentixol, Fluphenazine, Guanfacine, Iloperidone, Levomepromazine, Loxapine, Lurasidone, Melperone, Perazine, Perphenazine, Pimozide, Pipamperone, Promethazine, Prothipendyl, Sertindole, Sulforidazine, Sulpiride, Thioridazine, Ziprasidone, Zotepine, Zuclopenthixol
---
MassTox® Immunosuppressants
Cyclosporin A, Everolimus, Sirolimus, Tacrolimus
---
MassChrom® Vitamin D
25-OH-Vitamin D2, 25-OH-Vitamin D3
---
---
Webinar: Automation in Therapeutic Drug Monitoring with MassSTAR
Dr. Maximilian Dietz, Research & Development Manager at Chromsystems talks in this recorded webinar about the full CE-IVD walkaway solution MassStar that automates sample preparation. He gives key insights into the workflow and explains the benefits in respect of conformity, safety and flexibility.
---
Download Brochure
You would like to learn more about MassSTAR? Then you are welcome to download our brochure. After you have filled out the following form, the respective links to download your documents will be sent to the e-mail address provided.