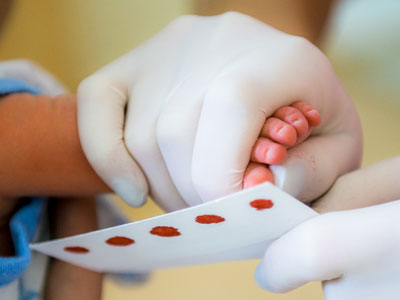 Newborn Screening
The CE-IVD and ready-to-use assays for tandem mass spectrometry allow the determination of amino acids and acylcarnitines from dried blood spot samples. They are used in newborn screening programmes for amino acid and fatty acid metabolic disorders. Assays with and without derivatisation and upgrades for succinylacetone are available.
Each analyte safeguarded by its own internal standard
Fast and robust sample preparation
Screening for many metabolic disorders in a single run such as PKU (Phenylketonuria), MSUD (Maple Syrup Urine Disease) and tyrosinemia type I
---
Assay Overview for Analysis by Tandem Mass Spectrometry
MassChrom® Amino Acids and Acylcarnitines from Dried Blood
Order No.
Derivatisation
96 Well Plates / 96 Well Filter Plates
55000
Yes => Higher sensitivity and lower interferences than method without derivatisation
96 Well Plates
55000/F
96 Well Filter Plates => One pipetting step can be saved by using well filter plates
57000
No => Time-saving sample preparation
96 Well Plates
57000/F
96 Well Filter Plates => One pipetting step can be saved by using well filter plates
Our assays with derivatisation combine high sensitivity with low interferences. The underivatised assays are characterised by a shorter and faster sample preparation. The methods are available with well plates, or alternatively with well filter plates, reducing the sample prep by one pipetting step. Upgrade sets for the determination of succinylacetone can be easily integrated into our assays and are available for both solutions – with and without derivatisation.
---
Upgrade for Succinylacetone
Succinylacetone is a primary marker to detect tyrosinemia type I in newborns and is part of the newborn screening programs in many countries. With our new assay upgrades you have the opportunity to determine succinylacetone with both, the derivatised and now also the more time efficient underivatised methods.
| | |
| --- | --- |
| Order No. | Upgrade Set |
| 55111 | Succinylacetone Upgrade Set for 55000 |
| 57111 | Succinylacetone Upgrade Set for 57000 |
| 57111/F | Succinylacetone Upgrade Set for 57000/F |
---
Download Brochure