Rufinamide, Felbamate and Lacosamide in Serum/Plasma - HPLC
Order No.: 21000, for 100 tests
Parameters:
Eslicarbazepine, Felbamate, Lacosamide, N-Desmethylmesuximide, Rufinamide
No interference with concomitant drug therapy
Identical sample preparation to reagent kit order no. 22000
Option of combined analysis with 22000/F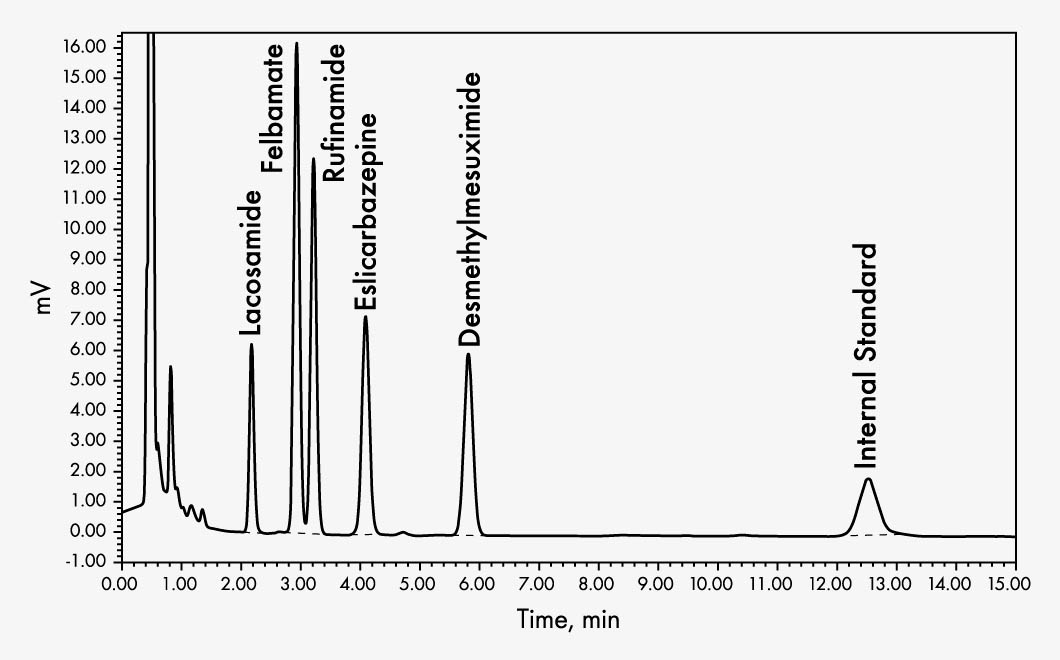 Eslicarbazepine
Felbamate
Lacosamide
N-Desmethylmesuximide
Rufinamide
Clinical relevance
Rufinamide, felbamate and mesuximide are approved in the EU for concomitant therapy in combination with other antiepileptic drugs (AEDs). They are primarily used to treat therapy-resistant epilepsies and Lennox–Gastaut syndrome, and are also suitable for difficult to treat epilepsies in children. Rufinamide and felbamate influence the effectiveness of other AEDs and contraceptive products. Eslicarbazepine acetate and lacosamide are also used in combination with other AEDs to treat partial epileptic seizures.
The blood levels of these medications must be determined to maintain the therapeutic range due to their pharmacodynamics and toxicities. That also includes measuring the levels of the metabolites N-desmethyl mesuximide and eslicarbazepine.
Product advantages
Undisturbed analysis for comedication with other antiepileptics
Sample preparation is identical to the reagent kit "Antiepileptics for HPLC", # 22000
Combined analysis with 22000/F is possible
Enhanced HPLC analysis of the antiepileptics enables the reliable determination of the AEDs rufinamide, felbamate, lacosamide, eslicarbazepine and N-desmethyl mesuximide. Sample preparation requires only one precipitation step and is identical to that of the Chromsystems kit order no. 22000. It has been tested for interference from other AEDs and can therefore guarantee undisturbed analysis even in the case of concomitant therapy with other AEDs.
Our TDM Parameter Set Antiepileptic Drugs from the MassTox® TDM Series A is available as an alternative for the measurement of these analytes with LC-MS/MS.
More Information
Number of Tests
100
Limit of quantification

0.5–1.0 mg/l

Linearity

up to 200 mg/l

Recovery
100 %
Intraassay

CV < 2 %

Interassay

CV < 2 %

Analysis Time
< 15 min
Sample Preparation

Pipette 100 µl serum/plasma and 150 µl Internal Standard into a reaction vial.
Mix 2 s (vortex).
Add 50 µl Precipitation Reagent.
Mix 1 min (vortex).
Centrifuge 10 min at 15000 x g.
Mix 100 µl supernatant with 100 µl Stabilisation Buffer.
Inject 20 µl into the HPLC system.

Sample Stability
At ambient temperature 1 week, at +2 to +8 °C 2 weeks and below -18 °C 3 weeks.
Specimen
Serum/Plasma
Pre-analytic Treatment

Patient samples are stable up to 4 weeks at +2 to +8 °C. For longer storage (up to 12 weeks) keep samples below -18 °C.

Injection Volume
20 µl
Flow rate
2.5 ml/min
Column temperature
ambient temperature (~25 °C)
Wavelength
204 nm
Gradient
isokratic
Please note
The freely available information on this website, in particular on the sample preparation, are not sufficient to work with our products. Please read instructions and warning notices on products and/or instruction manuals.
Method of Analysis
HPLC
Parameter
Eslicarbazepine, Felbamate, Lacosamide, N-Desmethylmesuximide, Rufinamide
Additional Info
Isocratic HPLC system with UV detector.