Levetiracetam (Keppra®) in Serum/Plasma - HPLC
Order No.: 24000, for 100 tests
Parameters:
Levetiracetam (Keppra®)
Completes the analysis of antiepileptic drugs
High sample throughput
CE-IVD validated product ready for IVDR within timeframes and transition periods specified by the IVDR-2022 regulation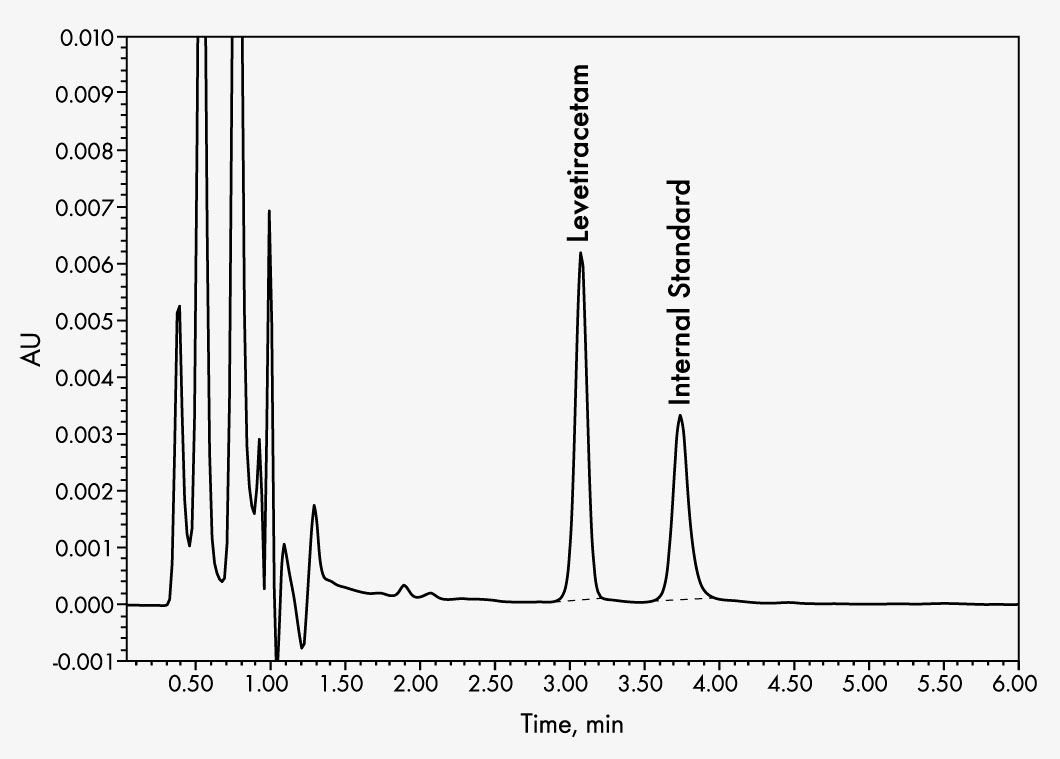 Clinical relevance
Levetiracetam (Keppra®) is an antiepileptic that bears no structural similarity to other drugs. In the cells of the brain, Levetiracetam acts to provide presynaptic inhibition over multiple cascades of postsynaptic chloride ion influx.
It is approved for monotherapy of certain forms of epilepsy in patients of age 16 years and older. It may also be prescribed as add-on therapy for younger patients, e.g. for juvenile myoclonic epilepsy (also called Janz syndrome). The determination of the serum concentration of levetiracetam is important since it undergoes individual fluctuations which vary from patient to patient.
Product advantages
Completion of the antiepileptic analysis
Exact quantification with a tailored internal standard
This assay allows for the rapid and reliable determination of levetiracetam levels in serum or plasma. Sample preparation is based on an efficient and fast method of solid phase extraction (SPE). A tailored internal standard is used to achieve an exact quantification. This kit enables isocratic elution for chromatographic separation on an RP column with subsequent UV detection.
Another HPLC assay (order no. 22000) that can determine further antiepileptics in serum/plasma is also available. Additionally a TDM Parameter Set from the MassTox® TDM Series A is available that uses mass spectrometry for analysis and which can measure 26 antiepileptics.
More Information
Method of Analysis
HPLC
Number of Tests
100
Please note
The freely available information on this website, in particular on the sample preparation, are not sufficient to work with our products. Please read instructions and warning notices on products and/or instruction manuals.
Limit of quantification
0.5 mg/l
Linearity
up to 1000 mg/l
Recovery
90 %
Intraassay

CV ≤ 1.3 %

Interassay

CV ≤ 3.7 %

Analysis Time
7 min
Specimen
Serum/Plasma
Pre-analytic Treatment

Patient samples should be kept cool for transport. They are stable up to 1 week at +2 to +8 °C. For longer storage keep samples below -18 °C.

Sample Preparation

Extraktion:

Condition the sample clean up columns with 1 ml Equilibration Buffer 1 and 1 ml Equilibration Buffer 2 (centrifugation 1 min at 850 x g).
Apply 100 µl serum/plasma followed by 100 µl Internal Standard to the sample clean up column, mix briefly.
Draw through completely by centrifugation (3 min at 1580 x g), discard effluent.

Wash:

Apply 1 ml of Wash Buffer 1, centrifuge 1 min at 1580 x g, discard effluent. Repeat with 1 ml of Wash Buffer 2.

Elution:

Change collection vial. Apply 500 µl Elution Buffer to the column and draw through completely by centrifugation (1 min at 850 x g).
Inject 10 µl eluate into the HPLC system.

Sample Stability
The prepared samples are stable for 3 days at room temperature, at +2 to +8 °C for 1 week. For longer storage keep samples below -18 °C
Injection Volume
10 µl
Flow rate
1.2 ml/min
Column temperature
ambient (~ 25 °C)
Wavelength
210 nm
Gradient
isocratic
Additional Info

Any isocratic HPLC system with UV detector is suitable.

Parameter
Levetiracetam (Keppra®)