Catecholamines in Plasma - HPLC
Order No.: 5000, for 200 tests
Parameters:
Adrenaline (Epinephrine), Dopamine, Noradrenaline
Easy and safe handling
All components are ready-for-use
High sensitivity
Low analysis costs
CE-IVD validated product ready for IVDR within timeframes and transition periods specified by the IVDR-2022 regulation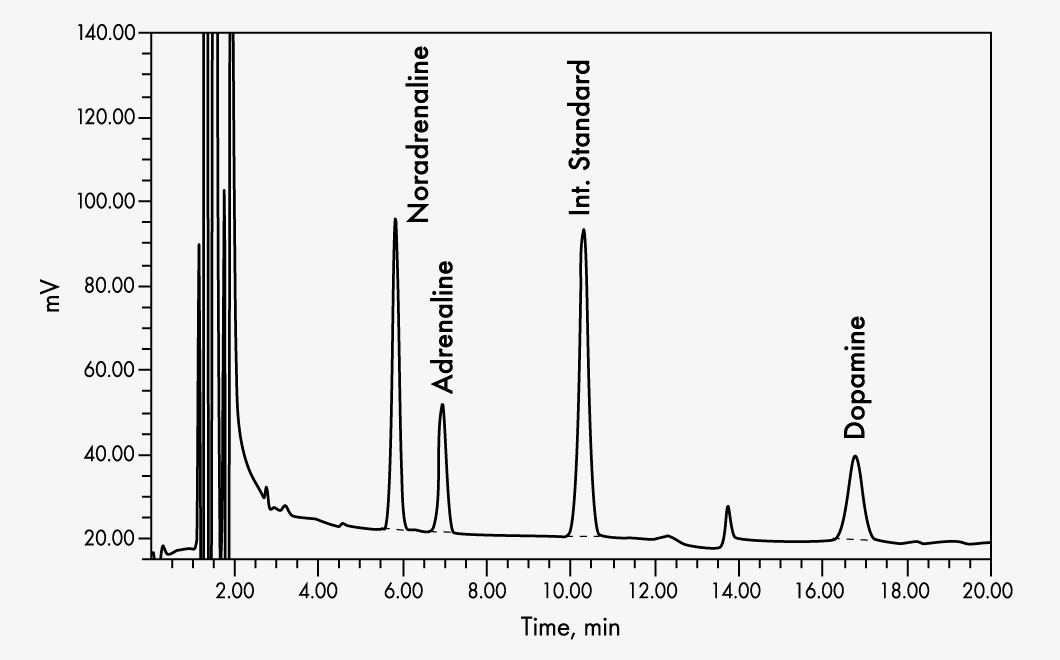 Adrenaline (Epinephrine)
Dopamine
Noradrenaline
Clinical relevance
The catecholamines adrenaline (epinephrine), noradrenaline (norepinephrine) and dopamine are biogenic amines, which play a central role in the body as hormones and neurotransmitters. Adrenaline and noradrenaline are produced in the adrenal medulla and the sympathetic nervous system. Dopamine is a neurotransmitter in the brain and acts as a local messenger substance in the peripheral nervous system.
The determination of catecholamines has clinical significance in the diagnosis of pheochromocytomas and other tumours affecting the nervous system. These diseases result in the production of surplus catecholamines, which are then excreted in the urine. 24-hour urine collection is the preferred method for tumour screening. The plasma concentration is determined to localise the tumour or to perform pharmacological function tests. Furthermore, the concentrations of adrenaline and noradrenaline are important indicators for cardiac insufficiency, cardiac diseases and arteriosclerosis.
Product advantages
Simple and safe handling
Low detection limits
Low analysis costs
Ready-to-use components
This Chromsystems assay allows the standard routine analysis of adrenaline, noradrenaline and dopamine in plasma with an isocratic HPLC system and electrochemical detector. A very specific sample preparation using solid phase extraction guarantees simple and safe handling of the samples as well as reproducible results.
For the HPLC analysis of catecholamines in urine, there is an additional method available (order no. 6000).
More Information
Method of Analysis
HPLC
Number of Tests
200
Please note
The freely available information on this website, in particular on the sample preparation, are not sufficient to work with our products. Please read instructions and warning notices on products and/or instruction manuals.
Lower Limit of Quantification

Adrenaline, Noradrenaline: 18-43 ng/l
Dopamine: 81 ng/l

Upper Limit of Quantification

2250–4000 ng/l

Recovery
> 70 % (dopamine > 40 %)
Intraassay

CV < 3.8 %

Interassay

CV < 6 % (dopamine ~13 %)

Run Time
< 20 min
Specimen
Plasma
Pre-analytic Treatment

Sample drawing

Blood samples should be drawn from the recumbent patient.
20 µl stabilisation solutuion (900 mg EGTA, 700 mg glutathione in 0,5 M NaOH ad 8 ml, pH 7-7.5 with H2O ad 10 ml) is required per ml blood.
Mix, centrifuge.

Sample Preparation

Add 500 µl Extraction Buffer to a sample clean up cartridge, shake briefly.
Apply 1 to 1.5 ml plasma and 50 µl Internal Standard.
Mix for 10 min by inverting.
Remove the bottom plug and remove supernatant by vacuum or centrifugation, discard effluent.
3 times: apply 1 ml Wash Buffer, shake briefly, centrifuge (1 min at 2000 rpm, after the last wash step 2 min at 4000 rpm), discard effluent.
Mount the plastic tube to the outlet of the cartridge, add 120 µl Elution Buffer, shake briefly, incubate for 5 min. Vortex 30 s.
Centrifuge for 1 min at 2000 rpm into the attached plastic tube. Collect eluat and mix well.
Inject 20-50 µl into the HPLC system.

Sample Stability
At ambient temperature up to 2 hours; below -18 °C up to 9 months
Injection Volume
20-50 µl
Flow Rate
0.8-1.3 ml/min
Column Temperature
ambient (~25 °C)
Additional Info

For the HPLC analysis of catecholamines in plasma any isocratic HPLC system with electrochemical detector is suitable.

Parameter
Adrenaline (Epinephrine), Dopamine, Noradrenaline
Potential
400 - 500 mV