Amiodarone and Desethylamiodarone in Serum/Plasma - HPLC
Order No.: 25000, for 100 tests
Parameters:
Amiodarone, Desethylamiodarone
Analysis of active metabolite included
Quick and easy sample preparation
Stable calibration standards and controls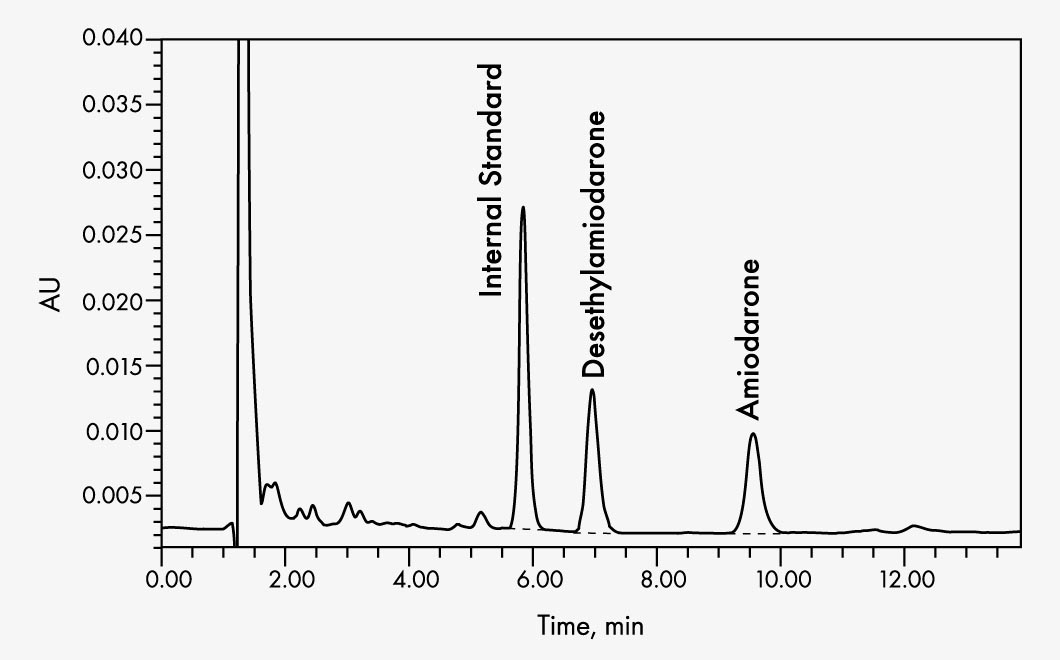 Amiodarone
Desethylamiodarone
Clinical relevance
Amiodarone is a typical representative of the class III antiarrhythmic agents that induce prolongation of the action potentials and refractory periods in the heart. It is approved in Germany for the treatment of various tachycardia arrhythmias, and is often prescribed in combination with other beta blockers. Additionally, amiodarone is often prescribed when other medications show no effect or stop working. Although amiodarone itself rarely causes cardiac arrhythmias, adverse effects may occur in other organs, e.g. reversible sensitivity to light in the eyes and the skin with risk of sunburn, increased liver-related values, as well as very rarely lung damages and hyperthyroidism/hypothyroidism. Regular monitoring of the amiodarone levels is therefore essential. Its bioactive metabolite desethylamiodarone can also be used for measurements.
Product advantages
Metabolite analysis included
Simple and fast sample preparation
Stable internal standards and quality controls
This kit allows for the simple and reliable HPLC analysis of amiodarone and desethylamiodarone. Sample preparation is based on a simple and very efficient method of precipitation of all of the interfering components of the sample matrix. The separation is then performed on an isocratic HPLC system with UV detector.
The MassTox® TDM Series A Parameter Set for Antiarrhythmic Drugs is also available for using LC-MS/MS to analyse amiodarone and desethylamiodarone.
More Information
Number of Tests
100
Limit of quantification

0.15 mg/l (Amiodarone)
0.10 mg/l (Desethylamiodarone)

Linearity

up to 20 mg/l

Recovery
99–106 %
Intraassay

CV = 0.6–1.1 %

Interassay

CV = 3.4–5.5 %

Analysis Time
approx. 11 min
Sample Preparation

Pipette 100 µl serum/plasma
+ 150 µl Internal Standard
+ 100 µl Precipitation Reagent into an amber coloured reaction vial (light protection).
Mix 20 s (vortex).
Centrifuge 10 min at at least 9000 x g.
Inject 25 µl of the supernatant into the HPLC system.

Sample Stability
Protected from light, the prepared samples are stable at +20 to +25 °C for up to 1 week, at +2 to +8 °C or below -18 °C for up to 2 weeks.
Specimen
Serum/Plasma
Pre-analytic Treatment

Patient samples are stable cooled (+4 °C) in the dark for at least 24 hours. For longer storage keep samples at approx. -20 °C.

Injection Volume
25 µl
Flow rate
1 ml/min
Column temperature
ambient (~ 25 °C)
Wavelength
242 nm
Gradient
isocratic
Please note
The freely available information on this website, in particular on the sample preparation, are not sufficient to work with our products. Please read instructions and warning notices on products and/or instruction manuals.
Method of Analysis
HPLC
Parameter
Amiodarone, Desethylamiodarone
Additional Info

Any isocratic HPLC system with UV detector is suitable.