VMA, HVA, 5-HIAA in Urine - HPLC
Order No.: 1000/B, for 100 tests
Parameters:
5-Hydroxyindoleacetic Acid (5-HIAA), Homovanillic Acid (HVA), Vanillylmandelic Acid (VMA)

No pH-adjustment necessary
Suitable for automated sample preparation
2 Internal standards available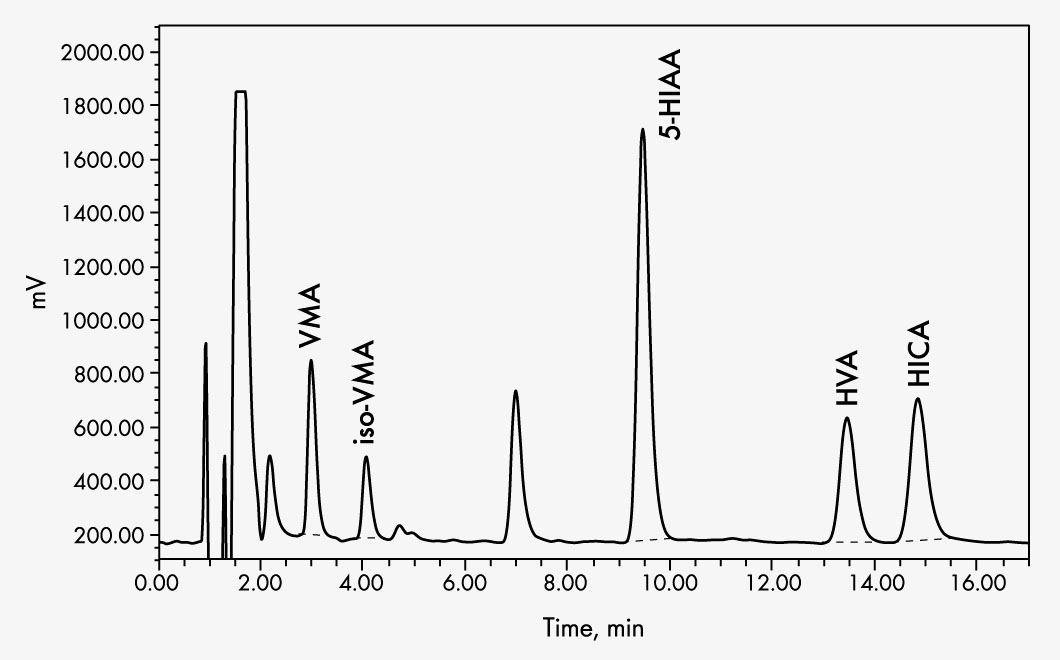 5-Hydroxyindoleacetic Acid (5-HIAA)
Homovanillic Acid (HVA)
Vanillylmandelic Acid(VMA)
Clinical Relevance
Neuroblastoma is a neoplastic disease that is among the most common malignant cancers occurring during childhood. It is a neuroendocrine tumour resulting in higher excretion of the catecholamine metabolites vanillylmandelic acid (VMA) and homovanillic acid (HVA) in the urine. Therefore verification of these parameters is critical in the diagnosis of neuroblastoma.
In contrast, increased concentrations of hydroxyindoleacetic acid (5-HIAA) detected in the urine are an indication of a carcinoid tumour. The malignant reproduction of enterochromaffin cells in the gastrointestinal tract leads to increased production of the tissue hormone serotonin, whose primary metabolite is 5-HIAA.
Product advantages
Simple and reliable sample preparation
Two internal standards if desired
Automated sample preparation for Gilson® ASPECTM is available
This kit enables routine HPLC determination of VMA, HVA and 5-HIAA in urine. Simple and safe operation guarantees reliable and reproducible results. An additional, optional internal standard (HICA) is also available for especially high precision in the determination of 5-HIAA.
Kit content
Mobile Phase, 1000 ml
VMA, HVA, 5-HIAA Calibration Standard (lyoph.), 5 x 1 ml
Internal Standard (iso-VMA), 100 ml
Wash Buffer I, 300 ml
Wash Buffer II, 300 ml
Elution Buffer, 200 ml
Finisher, 10 ml
Sample Clean Up Columns, 50 pcs.
More Information
Method of Analysis
HPLC
Number of Tests
100
Limit of quantification

VMA, HVA, 5-HIAA: 0.5 mg/l

Linearity

VMA: up to 78 mg/l
HVA: up to 51 mg/l
5-HIAA: up to 78 mg/l

Recovery
VMA: 70 %; HVA: 82 %; 5-HIAA: 66 %
Intraassay
CV < 4 %
Interassay
CV < 5 %
Analysis Time
< 18 min
Specimen
24 h urine; spontaneous urine (refer the data to urine creatinine)
Pre-analytic Treatment

Determination of VMA/HVA

Collect urine in 10 ml HCl 25 %, pH < 4

Determination of 5-HIAA

Collect urine in 10 ml glacial acetic acid, pH 4 - 6

Sample Preparation

Extraction: Add 1 ml Internal Standard to 50 µl urine and mix. Apply entire sample to the sample clean up column, draw through by vacuum or centrifugation, discard effluent.
Washing: Apply 3 ml Wash Buffer I to the sample clean up column, discard effluent. Apply 2 times 3 ml Wash Buffer II, discard effluents.
Elution: Apply 2.0 ml Elution Buffer to the sample clean up column, collect eluate. Add 100 µl Finisher and mix briefly.
Inject 10–20 µl into the HPLC system.

Sample Stability
VMA, HVA: at +2 to +8 °C at least 5 days. 5-HIAA: at +2 to +8 °C in the dark max. 3 days. Aliquot and freeze below -18 °C for longer storage.
Injection Volume
10-20 µl
Flow rate
1 ml/min
Column temperature
ambient (~25 °C)
Additional Info
For the HPLC analysis of VMA, HVA and 5-HIAA in urine any isocratic HPLC system with electrochemical detector is suitable.
Please note
The freely available information on this website, in particular on the sample preparation, are not sufficient to work with our products. Please read instructions and warning notices on products and/or instruction manuals.
Parameter
5-Hydroxyindoleacetic Acid (5-HIAA), Homovanillic Acid (HVA), Vanillylmandelic Acid (VMA)
Potential
approx. +760 mV
Mobile Phase

Order no.: 1011

VMA, HVA and 5-HIAA in Urine - HPLC

Wash Buffer I

Order no.: 1005

VMA, HVA and 5-HIAA in Urine - HPLC