Serotonin in Urine - HPLC
Order No.: 4000, for 100 tests
Now easier pH adjustment with pH indicator
Easy sample preparation
Short analysis time
CE-IVD validated product ready for IVDR within timeframes and transition periods specified by the IVDR-2022 regulation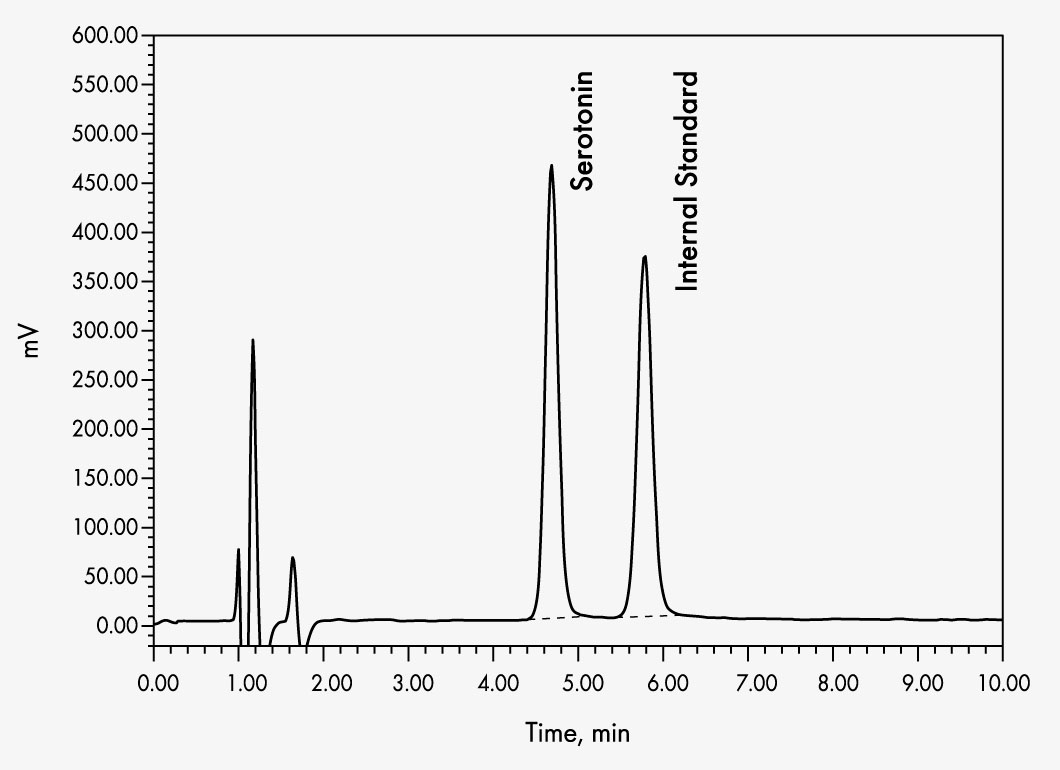 Clinical relevance
Serotonin (5-hydroxytryptamine) is a biogenic amine. In humans, serotonin is involved in a large number of physiological processes, e.g. it acts as a tissue hormone and neurotransmitter in the central nervous system, the enteric nervous system and the cardiovascular system. A large amount of serotonin is found in the chromaffin cells of the gastrointestinal tract where it is part of the gastrointestinal hormone system. When released into the capillary blood, serotonin is almost absorbed by the thrombocytes.
A number of diseases are associated with pathological changes in the serotonin metabolism. For the routine, the diagnosis of carcinoid tumours together with the analysis of 5-hydroxyindoleacetic acid (5-HIAA) is very important.
Product advantages
Simple and efficient sample preparation
Fast results due to short analysis times
Long column life times
This assay allows for reliable HPLC determination of serotonin in urine as part of routine diagnostic laboratory testing. Easy and fast sample preparation leads to exact and reproducible results. The chromatographic determination requires an isocratic HPLC system with electrochemical detection. Calibrator and quality controls are available separately – they are produced from pure human matrices to prevent matrix-associated measurement variabilities.
Alternatively, Chromsystems offers an assay for determining serotonin in serum/plasma and whole blood (order no. 3030).
More Information
Method of Analysis
HPLC
Number of Tests
100
Limit of quantification
5 µg/l
Linearity
up to 1000 µg/l
Recovery
> 94 %
Intraassay

CV < 2 %

Interassay

CV < 3 %

Analysis Time
< 6 min
Specimen
24 h urine (containing 10 ml 25 % HCl) or spontaneous urine (refer data to urine creatinine).
Pre-analytic Treatment

Note:

The following food and drugs can falsify the results of the determination: pineapples, eggplants, avocados, bananas, redcurrants, kiwis, melons, mirabelles, gooseberries, tomatoes, walnuts, plums, methocarbamol, mephenesin, guaifenesin, paracetamol, salicylic acid.

Sample Preparation

Mix 4 ml urine with 100 µl Internal Standard and 6 ml Neutralisation Buffer.
Add 2 N NaOH until the colour changes from yellow to green or green-grey (see figure).

Resuspend Sample Clean Up Column and allow buffer to flow out.
Apply entire urine dilution to the column, discard effluent.
Rinse the column with 1 volume of water, discard effluent.
Apply 3 ml Wash Buffer, discard effluent.
Apply 20 ml Elution Buffer, collect eluate, mix well.
Inject 20 to 50 µl eluate into the HPLC system.

Sample Stability
At +2 to +8 °C at least 5 days. Aliquot and freeze for longer storage.
Injection Volume
20-50 µl
Flow rate
1 ml/min
Column temperature
ambient (~25 °C)
Additional Info

For the HPLC analysis of serotonin in urine any isocratic HPLC system with electrochemical detector is suitable.

Please note
The freely available information on this website, in particular on the sample preparation, are not sufficient to work with our products. Please read instructions and warning notices on products and/or instruction manuals.
Parameter
Serotonin
Potential
approx. +400 to +500 mV