Metanephrines in Urine - HPLC
Order No.: 2020, for 100 tests
Parameters:
3-Methoxytyramine, Metanephrine, Normetanephrine
No pH adjustment after hydrolysis
Only 1 sample clean up column required
Reliable separation of interferences
CE-IVD validated product ready for IVDR within timeframes and transition periods specified by the IVDR-2022 regulation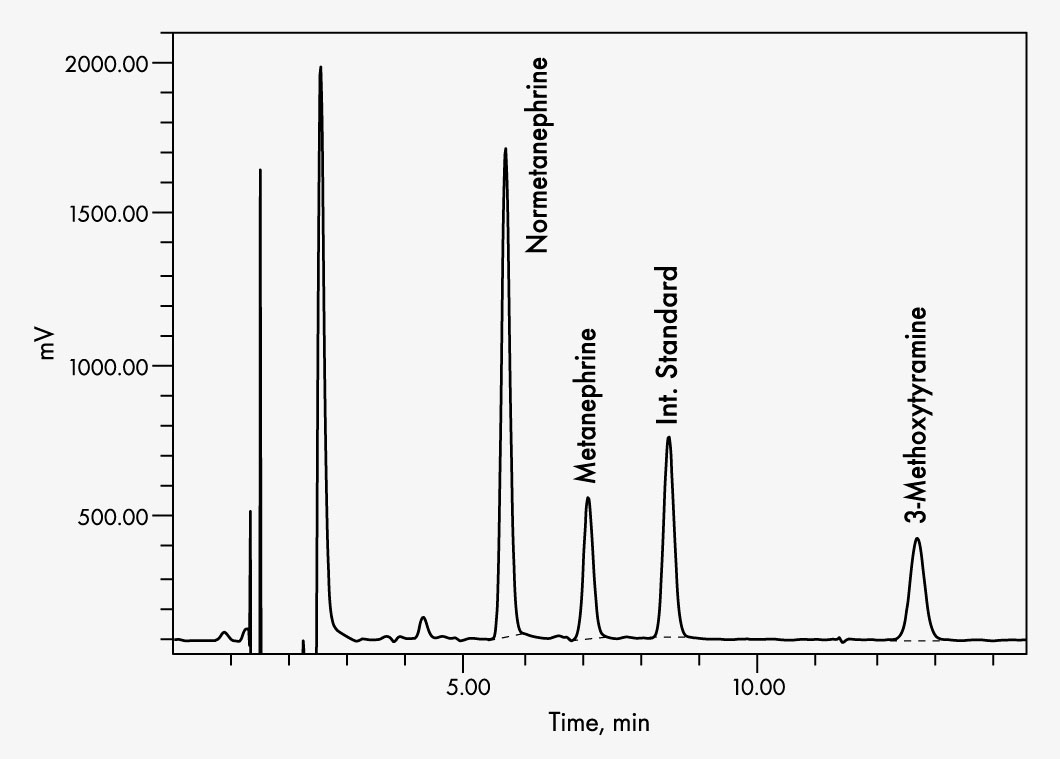 3-Methoxytyramine
Metanephrine
Normetanephrine
Clinical relevance
The biogenic amines normetanephrine, metanephrine, and 3-methoxytyramine are the primary metabolites produced in catecholamine metabolism. They are important parameters in diagnosing certain tumours in the adrenal medulla such as pheochromocytomas, neuroblastomas, ganglioneuromas and melanoblastomas. They have to be determined in addition to adrenaline, noradrenaline, dopamine, VMA and HVA in order to lower the risk of false-positive results.
Product advantages
Only 1 sample clean up column required
Effective removal of interferences
Combined catecholamine/metanephrine analysis in urine is possible
This assay enables a reliable routine HPLC determination of metanephrine, normetanephrine, and 3-methoxytyramine in urine. The conjugated metanephrines are reliably released using acid hydrolysis. The pH level required for solid phase extraction can be adjusted very easily using the colour change indicator by adding the neutralisation buffer. The chromatographic determination is run on an isocratic HPLC system with an electrochemical detector. Optimised column and mobile phase ensure the reliable separation of possible interfering substances.
More Information
Method of Analysis
HPLC
Number of Tests
100
Please note
The freely available information on this website, in particular on the sample preparation, are not sufficient to work with our products. Please read instructions and warning notices on products and/or instruction manuals.
Limit of quantification
5 - 11 µg/l
Linearity
up to 5000 µg/l (normetanephrine: 5- 2500 µg/l)
Recovery
> 94 %
Intraassay

CV < 3 %

Interassay

CV < 4.4 %

Analysis Time
~ 14 min
Specimen
24 h urine (containing 25 % HCl); spontaneous urine (refer the data to urine creatinine)
Sample Preparation

Acidic hydrolysis: Pipette 100 µl Internal Standard into a hydrolyis tube, add 1 ml urine, adjust pH with 2 N HCl to 0.8 to 1.0. Incubate in the sealed tube at 90 to 100 °C for 30 min, then cool down immediately.
Neutralisation: Add 6 ml Neutralisation Buffer to the hydrolysed urine. If the sample colour does not change to purple, add 2 N NaOH until colour changes.
Extraction: Apply the entire sample to the sample clean up column, discard eluate.
Washing: Apply 10 ml distilled water and then 5 ml Wash Buffer, discard eluates.
Elution: Apply 5 ml Elution Buffer to the sample clean up column and collect eluate. Mix each eluate briefly.
HPLC: Add 30 µl glacial acetic acid per ml eluate. Inject 20 µl of the acidified eluate into the HPLC system.

Sample Stability
At +2 to +8 °C at least 5 days. Aliquot and freeze for longer storage.
Injection Volume
20 µl
Flow rate
1.0-1.2 ml/min
Column temperature
ambient (~25 °C)
Additional Info

For the Chromsystems HPLC analysis of metanephrines in urine any isocratic HPLC system with electrochemical detector is suitable.

Parameter
3-Methoxytyramine, Metanephrine, Normetanephrine
Potential
approx. +780 to +840 mV