MassChrom® 25-OH-Vitamin D3/D2 in Serum/Plasma for automated sample preparation - LC-MS/MS
Order No.: 62000/1000/F, for 1000 tests
Parameters:
25-OH-Vitamin D2, 25-OH-Vitamin D3
Suitable for different liquid handling devices
Sample tracking, LIMS connectivity and full walkaway operation for improved workflows
CE-IVD validated product ready for IVDR within timeframes and transition periods specified by the IVDR-2022 regulation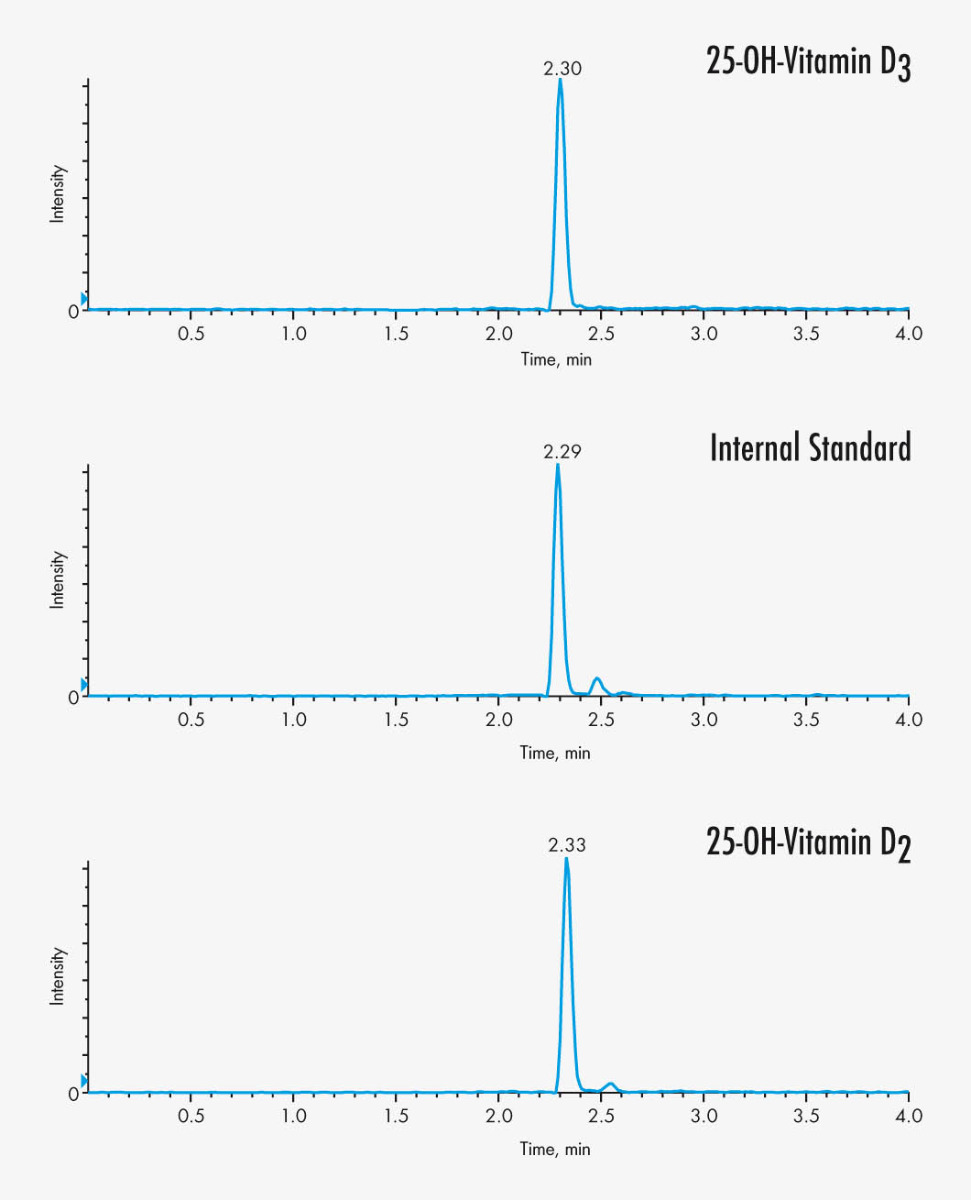 25-OH-Vitamin D2
25-OH-Vitamin D3
Clinical relevance
Vitamin D (cholecalciferol) is a recognised clinical chemical determinant associated with osteoporosis and osteopenia (reduction in bone density). It also plays a role in the body's immune response, cardiovascular diseases and some types of cancer. Therefore, vitamin D is highly important from a number of diagnostic perspectives.
25-OH-vitamin D3 is the primary metabolite in the human body and the direct precursor of the physiologically active form 1.25-(OH)2-vitamin D3. First-line treatment for vitamin D deficiency is nutritional supplements with vitamin D3 or vitamin D2. Vitamin D2 is easier to synthesise and is widely used as a supplement outside of the EU, and especially in the United States. Therefore, its determination in serum/plasma is also relevant.
Product advantages
Automated sample preparation in 96 Well Filter Plates
3PLUS1® or 6PLUS1® Multilevel Calibrator Set and MassCheck® Controls
Isotopically labelled internal standard
This Chromsystems kit allows the determination of 25-OH-vitamin D3 and 25-OH-vitamin D2 in serum and plasma with LC-MS/MS. 96 samples can be reliably processed in 30 minutes using automated sample preparation. The comparison of manual and automated method shows a strong correlation. The 3PLUS1® and 6PLUS1® multilevel calibrators are optionally available and guarantee a high level of precision of the results.
A variant for manual sample preparation in 96 well filter plates (order no. 62000) is also available.
Content for 1000 tests
Mobile Phase A, 5 x 1000 ml
Mobile Phase B, 5 x 1000 ml
Precipitation Reagent, 5 x 5 ml
Internal Standard, 5 x 40 ml
Rinsing Solution, 2 x 1000 ml
96 Well Filter Plates, 4 x 3 pcs.
Collection Plates, 4 x 3 pcs.
Pierceable Adhesive Seals for 96 Well Plates, 4 x 3 pcs.
3PLUS1® Multilevel Serum Calibrator Set (lyoph.), 4 x 1 ml
MassCheck® 25-OH-vitamin D3/D2 Serum Control, Level I (lyoph.), 5 x 1 ml
MassCheck® 25-OH-vitamin D3/D2 Serum Control, Level II (lyoph.), 5 x 1 ml
Analytical Column, 1 pc.
Trap Column, 2 pcs.
More Information
Method of Analysis
LC-MS/MS
Number of Tests
1000
Please note
The freely available information on this website, in particular on the sample preparation, are not sufficient to work with our products. Please read instructions and warning notices on products and/or instruction manuals.
Limit of quantification

25-OH-Vitamin D2: 2.2 µg/l
25-OH-Vitamin D3: 3.0 µg/l

Linearity

up to 250 μg/l

Intraassay

CV < 5 %

Interassay

CV < 6 %

Analysis Time
5 min
Specimen
Serum/Plasma
Pre-analytic Treatment

Patient samples are stable up to 3 days at ambient temperature and up to 1 week at +2 to +8 °C. For longer storage (maximum 1 month) deep-freeze the samples below -18 °C.

Sample Preparation
Samples can be prepared with full or partial automation on a liquid handling device. Manual sample preparation using 96 well filter plates is also possible. A multichannel pipette (8-channel or 12-channel) or a Multipette may be used.
Sample Stability
Samples are stable up to 1 week at +2 to +8 °C. For longer storage periods keep samples frozen below -18 °C.
Additional Info

Pump A delivers 100 % Mobile Phase A for loading the trap column.
Pump B delivers 100 % Mobile Phase A for separating analytes on the analytical column.

Ionisation
APCI positive
MS/MS-Mode
MRM
Information

The trap column and the analytical column are linked to the mass spectrometer through a 2-position 6-port valve.

Parameter
25-OH-Vitamin D2, 25-OH-Vitamin D3
Flow

Pump A: 0.02–1.00 ml/min
Pump B: 0.60–1.00 ml/min