Malondialdehyde in Serum/Plasma - HPLC
Order No.: 67000, for 100 tests
Parameters:
Malondialdehyde
The marker of lipid peroxidation
Trouble-free analysis
Reliable results
CE-IVD validated product ready for IVDR within timeframes and transition periods specified by the IVDR-2022 regulation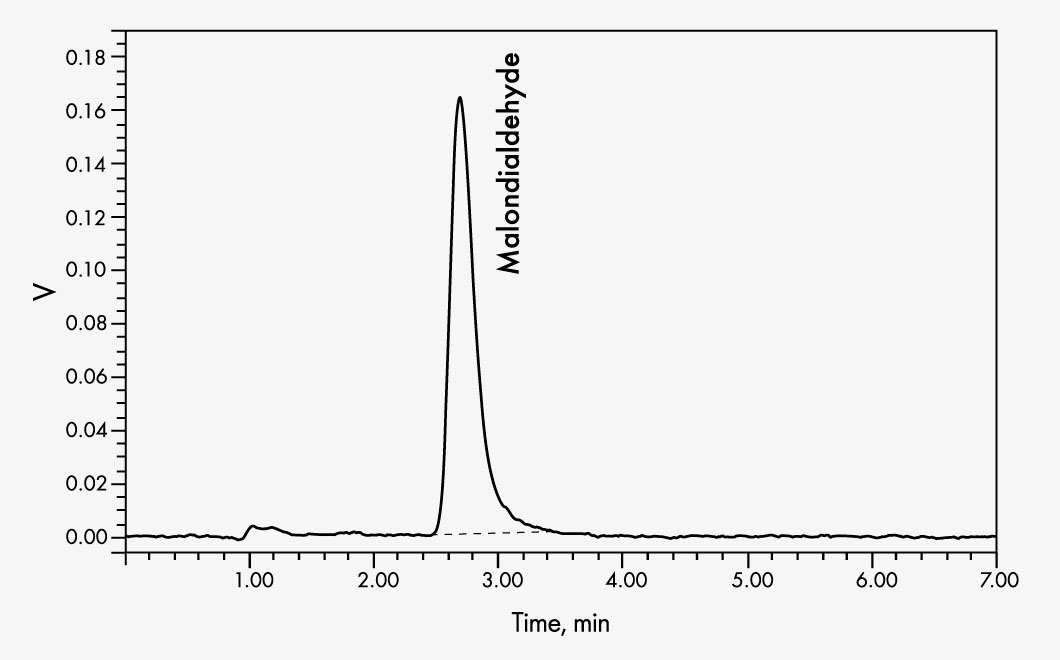 Clinical relevance
Excessive oxidative stress can lead to degenerative damages in the body, such as oxidation of lipids, proteins, and DNA. The body has multiple endogenous biomarkers that can provide information about its physical condition, such as β-carotene, coenzyme Q10, glutathione, vitamin C and malondialdehyde (MDA), of which an increase in serum or plasma is a sign of oxidative stress.
MDA is an oxidation product of polyunsaturated fatty acids, and thus the laboratory diagnostic marker used for lipid peroxidation. Recent clinical studies show that the MDA concentration is elevated in patients with cystic fibrosis and other chronic respiratory diseases. The additional determination of the MDA level together with other parameters provides useful information about the degree of oxidative stress to optimise the therapy.
Product advantages
The marker for lipid peroxidation
Interference-free analysis
Reliable results
This Chromsystems assay allows the reliable chromatographic determination of malondialdehyde in one isocratic HPLC run with fluorescence detection. Sample preparation is based on an effective protein precipitation step followed by derivatisation. The resulting fluorophore is specific and detectable even at very low concentrations.
More Information
Method of Analysis
HPLC
Number of Tests
100
Please note
The freely available information on this website, in particular on the sample preparation, are not sufficient to work with our products. Please read instructions and warning notices on products and/or instruction manuals.
Limit of Quantification
0.01 µmol/l
Linearity
up to 10 µmol/l
Recovery
99 %
Intraassay
CV ≤ 2.9 %
Interassay
CV ≤ 8.8 %
Analysis Time
< 5 min
Specimen
Plasma/Serum
Pre-analytic Treatment
Fresh plasma is used. Patient samples are stable up to 12 h at +2 to 8 °C and up to 4 weeks below -18 °C. Deep-freeze for transport.
Sample Preparation

Mix 100 µl plasma and 500 µl Precipitation Reagent, mix for 10 s (vortex).

Centifuge 5 min at 16 000 x g.

Transfer 500 μl of the supernatant into a labelled derivatisation vial.

Add 100 μl Derivatisation Reagent and mix briefly.

Incubate 60 min at 95 °C, and cool down immediately.

Add 500 μl Neutralisation Buffer mix briefly.

Inject 20 µl into the HPLC system.

Sample Stability
The prepared samples are stable at room temperature up to 24 h, at +2 to +8 °C up to 3 days and below -18 °C up to 4 weeks.
Injection Volume
20 µl
Flow Rate
1.0 ml/min
Column Temperature
ambient (~ 25 °C)
Wavelength
EX 515 nm, EM 553 nm
Gradient
isocratic
Additional Info
Any isocratic HPLC system with fluorescence detector is suitable.
Parameter
Malondialdehyde