Homocysteine in Serum/Plasma - HPLC
Order No.: 45000, for 200 tests
Fast sample preparation
Short analysis time
Column life-time more than 2000 runs
Suitable for all blood collection systems
CE-IVD validated product ready for IVDR within timeframes and transition periods specified by the IVDR-2022 regulation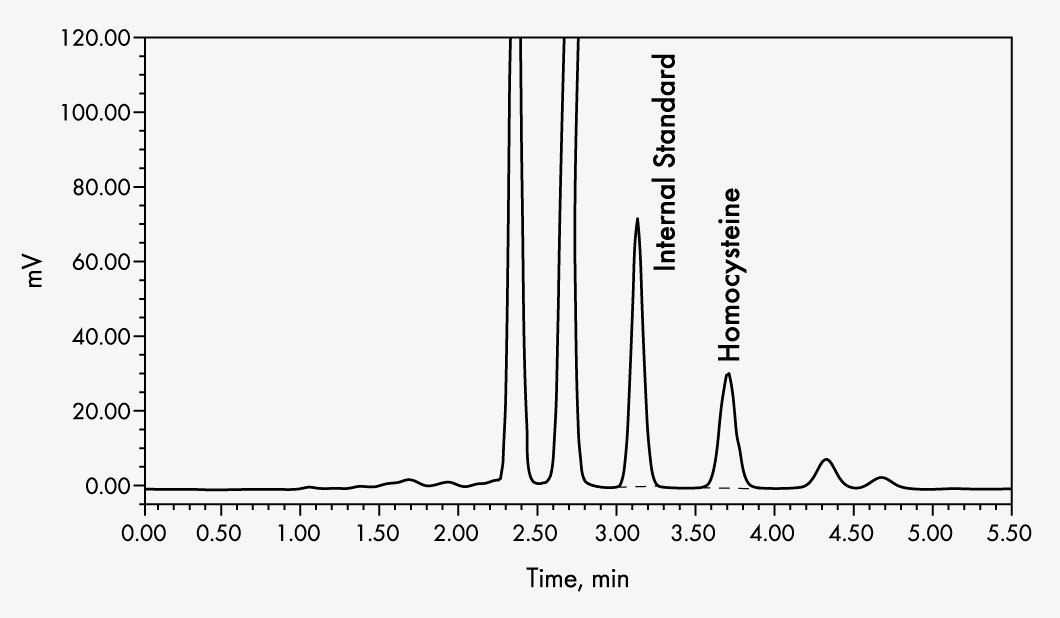 Clinical relevance
Homocysteine (Hcy) is a non-proteinogenic amino acid, synthesized during the demethylation of the amino acid methionine. Some enzymes are involved in this process, which require cofactors such as vitamin B6 and vitamin B12. A deficiency of these cofactors can lead to an increase in the Hcy concentration, but inherited genetic mutations may also be the cause.
Even moderately increased Hcy levels are a risk factor for cardiovascular diseases, arteriosclerosis and coronary heart diseases. Increased Hcy levels are also detected in the case of homocystinuria, an inherited genetic disorder in which the enzymes required for metabolism are not present or at levels that are too low. In this case, already newborns have high levels of Hcy, however, the disease is treatable if detected in time. Screening of newborns (NBS) for homocystinuria has therefore become mandatory in some European countries such as Ireland. In Germany it is only performed as part of more intensive screening or in cases where the disease is suspected.
Product advantages
Fast sample preparation
Short analysis time
Column lifetime of more than 2000 runs
For all blood collection systems
This assay allows the simple and reliable determination of total homocysteine in serum/plasma. Sample preparation is simply a reduction step for releasing homocysteine from its protein binding, followed by precipitation and subsequent precolumn derivatisation. Chromatographic separation is performed on an isocratic HPLC system with fluorescence detection. The optimised reagents ensure the accurate and reliable quantification of total homocysteine for all blood collection systems within a brief analysis period of less than 6 minutes.
More Information
Method of Analysis
HPLC
Number of Tests
200
Please note
The freely available information on this website, in particular on the sample preparation, are not sufficient to work with our products. Please read instructions and warning notices on products and/or instruction manuals.
Limit of Quantification
0.4 µmol/l
Linearity
up to 400 µmol/l
Recovery
96–99 %
Intraassay

CV = 0.9–2.2 %

Interassay

CV = 2.9–3.1 %

Analysis Time
5.5 min
Specimen
Serum/Plasma
Pre-analytic Treatment

Blood should be taken from the fasted patient. If no special homocysteine blood collecting systems are used, plasma/serum should be prepared within 45 min after drawing the sample. Homocystein in plasma is stable at room temperature for 24 h, at +4 °C up to 1 week and below -18 °C several months.

Sample Preparation

To 100 µl plasma/serum add 25 µl Internal Standard and 75 µl Reduction Reagent.
Shake for 2 s (vortex).
Incubate 10 min at ambient temperature.
Add 100 µl Precipitation Reagent.
Shake for 30 s (vortex).
Centrifuge 5 to 7 min at 9000 x g.
Pipette 100 µl derivatisation mix into a new light protected reaction vial.
Add 50 µl supernatant, mix well.
Incubate 10 min at +50 to +55 °C.
Cool down immediately.
Inject 20 to 50 µl into the HPLC system.

Sample Stability
The prepared samples are stable at ambient temperature up to 20 h, at +2 to +8 °C for 5 days and below -18 °C up to 3 weeks.
Injection Volume
20–50 µl
Flow Rate
1.3–1.7 ml/min
Column Temperature
ambient (~ 25 °C)
Wavelength

EX 385 nm
EM 515 nm

Additional Info
Any isocratic HPLC system with fluorescence detector is suitable.
Parameter
Homocysteine