Glutathione in Whole Blood - HPLC
Order No.: 66000, for 100 tests
Parameters:
Free Glutathione (GSH), Glutathionedisulfide (GSSG)
Detection of reduced and oxidized form
10 µl sample volume
High reliability by inclusion of an internal standard
CE-IVD validated product ready for IVDR within timeframes and transition periods specified by the IVDR-2022 regulation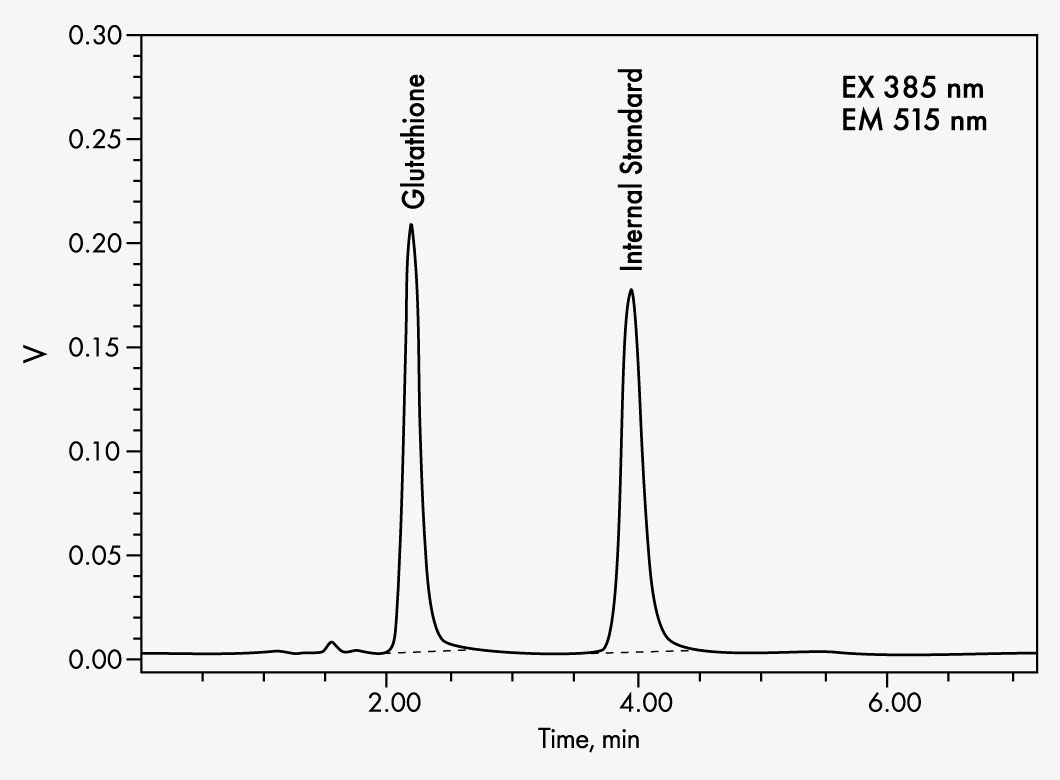 Free Glutathione (GSH)
Glutathionedisulfide (GSSG)
Clinical relevance
Glutathione is a tripeptide, which is present in nearly all cells at high concentrations and is one of the most important antioxidant substances in the body. Glutathione exists in a reduced (GSH) and an oxidized form (GSSG) and the ratio of both is a measure for the redox status of the cell. Glutathione is especially important for the erythrocytes. Here it is involved in reducing methaemoglobin to haemoglobin, which can then bind oxygen molecules once again. Glutathione is also required for many reductive reactions in the body cells, thereby regulating the concentration of free radicals. Glutathione forms conjugates in the liver that eliminate toxic contaminants. There it also inactivates reactive intermediate products resulting from the metabolisation of certain drugs. Therefore, a high concentration of GSSG can indicate a liver necrosis or dystrophy.
Product advantages
Detection of reduced and oxidised form
Sample volume of only 10 µl is sufficient
High reliability by using an internal standard
GSH as well as GSSG can be reliably quantified with this Chromsystems assay by using only 10 µl of whole blood. The sample preparation is based on protein precipitation and derivatisation followed by HPLC determination with fluorescence detection. After precipitation, the sample is split into two halves. One aliquot is derivatised immediately for the determination of reduced glutathione; the second aliquot is chemically reduced before derivatisation which leads to the detection of the sum of both, oxidised and reduced glutathione. The use of an optimised internal standard minimises any analytical variations that could be crucial when calculating the GSSG/GSH ratio.
More Information
Method of Analysis
HPLC
Number of Tests
100
Limit of quantification
5 µmol/l
Linearity
up to 15000 µmol/l
Recovery
99 %
Intraassay

CV ≤ 4.6 %

Interassay
CV ≤ 4 %
Analysis Time
5 min
Specimen
Whole Blood
Pre-analytic Treatment
Information on the collection and storage of patient samples can be gathered from the specific literature.
Sample Preparation

1) Preparation of whole blood samples:


Place 150 μl Internal Standard into a light-protected reaction vial.
Add 10 μl whole blood and mix by rinsing the tip.
Mix briefly (vortex).
Add 400 μl Precipitation Reagent and mix 30 s (vortex).
Centrifuge 7 min at 9000 x g.

2) Determination of free glutathione:

Place 50 μl of the supernatant from step 1) into a new, light-protected reaction vial.
Add 100 μl Derivatisation Mix and mix well.
Incubate 10 min at +50 to +55 °C in a water bath, cool down immediately.
Inject 20 μl into the HPLC system.

3) Determination of the sum of oxidised and free glutathione:

Place 50 μl of the supernatant from 1) in a new, light-protected reaction vial.
Add 10 μl Reduction Mix and mix well (vortex).
Incubate 5 min at room temperature.
Add 100 μl Derivatisation Mix and mix well.
Incubate 10 min at +50 to +55 °C in a water bath, cool down immediately.
Inject 20 μl into the HPLC system.

Sample Stability
The prepared samples are stable for 2 days at room temperature, at +2 to +8 °C for 5 days. The non-derivatised or reduced supernatant is stable up to 3 days at +2 to +8 °C.
Injection Volume
20 µl
Flow rate
1.3 ml/min
Column temperature
ambient (~ 25 °C)
Wavelength
EX 385 nm, EM 515 nm
Gradient
Isocratic
Additional Info
Any isocratic HPLC system with fluorescence detector is suitable.
Please note
The freely available information on this website, in particular on the sample preparation, are not sufficient to work with our products. Please read instructions and warning notices on products and/or instruction manuals.
Parameter
Free Glutathione (GSH), Glutathionedisulfide (GSSG)