MassTox® TDM Series A
Modular System for Therapeutic Drug Monitoring
200 Parameters (continuously extended)
1 Analytical column – 1 sample prep
Almost all parameters safeguarded by internal standards
3PLUS1® or 6PLUS1® Multilevel Calibrator Sets and MassCheck® plasma controls
---
The Three Components of MassTox® TDM Series A
Master Column
One analytical column for all. No column switching required.
Basic Kit
Contains all components required for a complete sample preparation and all necessary mobile phases.
Parameter Sets
Parameter menu of 200 analytes is divided in 13 parameter sets. All of them contain all relevant calibrators, quality controls and internal standards.

---
Example of a Parameter Set: MassTox® Neuroleptics 1/EXTENDED
Identical Sample Preparation for all Parameter Sets:
Add 800 μl Internal Standard Mix to 12 ml Precipitation Reagent (= mixture A).
Pipette 50 μl sample/calibrator/MassCheck® control
into a 1.5 ml reaction vial.
Add 25 μl Extraction Buffer, mix briefly (vortex)
and incubate 2 min.
Add 250 μl of mixture A, mix 30 s (vortex) and centrifuge 5 min.
Dilute supernatant with Dilution Buffer (depending on instrument sensitivity) and inject into LC-MS/MS system.
The information on the sample preparation presented here is not sufficient for use in the laboratory. For a detailed step by step description, please refer to the instruction manual.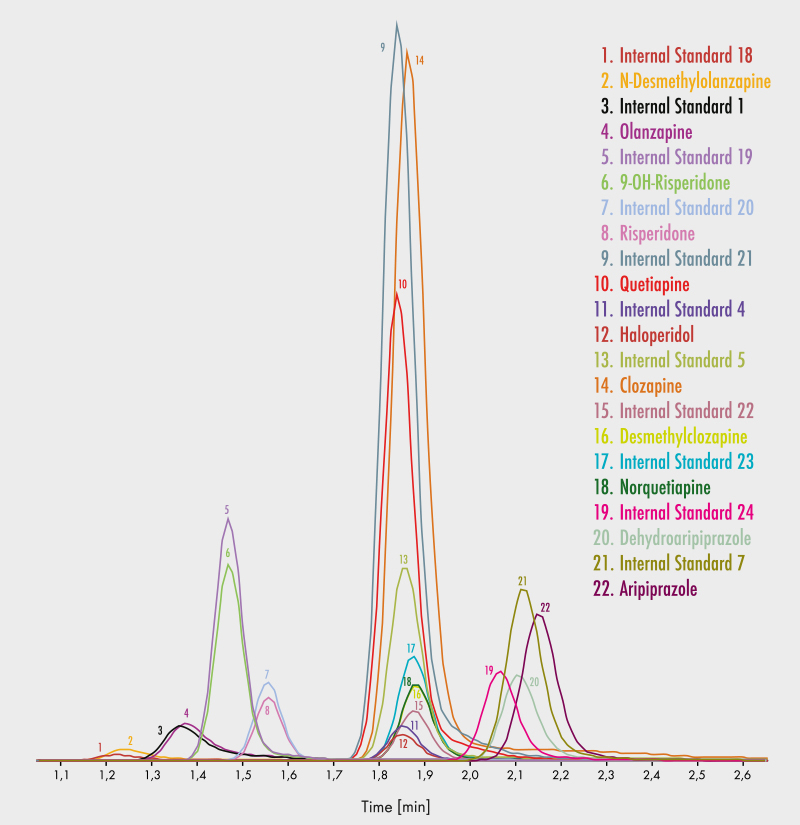 13 Parameter Sets available:
Antiarrhythmic Drugs
Antidepressants 1/EXTENDED
Antidepressants 2/ Psychostimulants/ EXTENDED
Antiepileptic Drugs All-in-One Method
Anti-HIV Drugs
Antimycotic Drugs
Benzodiazepines 1
Benzodiazepines 2
Mycophenolic Acid
Neuroleptics 1/EXTENDED
Neuroleptics 2/EXTENDED 2
Tricyclic Antidepressants TCA1
Tricyclic Antidepressants TCA2
---
Parameter Menu
---