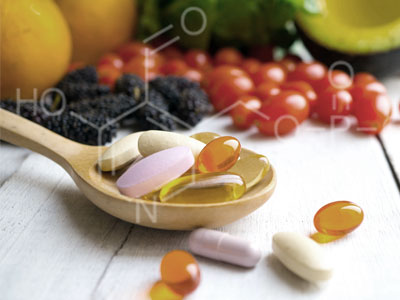 Vitamin Profiling
Choose from a range of complete assays for vitamin profiling. Calibrators and controls are also available separately.
HPLC/UHPLC and LC-MS/MS assays
Reliable methods with fast sample preparation
Calibrators and controls available separately
Assays Available for Vitamin Profiling
Assays for the Combined Analysis of Vitamin A and E in Serum/Plasma
Order No.
Method
Number of tests
Analysis time
Characteristics
34000
HPLC
100
9 min
Standard method
34000/Premix
HPLC
100
9 min
One-step sample prep / pre-mixed tubes
34900/UHPLC
UHPLC
1.000
3.5 min
One-step sample prep / pre-mixed tubes
Short analysis time, high sample throughput
34700/F
HPLC
5 x 96
9 min
HPLC method, automated
34900/F
UHPLC
10 x 96
3.5 min
UHPLC method, automated. Short analysis time, high sample throughput
Vitamin A (retinol) is essential for the formation of rhodopsin, for bone metabolism, and for the synthesis of steroid hormones. Deficiency of vitamin A leads to night blindness, dry skin, and loss of hair. Vitamin E (α-tocopherol) is a potent antioxidant that protects LDL cholesterol and cellular membranes from lipid peroxidation, which mainly occurs as a result of increased oxidative stress in the organism.
Chromsystems offers CE-IVD validated complete assays as well as calibrators and controls. Plus there are solutions available for any requirements:
Standard method or one-step sample preparation with Pre-mixed Tubes
UHPLC methods for short analysis time and high sample throughput
Automated methods
Assays for the Analysis of Vitamin C in Plasma/Serum
| | | | | |
| --- | --- | --- | --- | --- |
| Order No. | Method | Number of tests | Analysis time | Characteristics |
| 65065 | HPLC | 100 | 5 min | Standard method |
| 65765/F | HPLC | 480 | 5 min | Automated method with 96 well filter plates |
Vitamin C (ascorbic acid) is a water-soluble vitamin that is an essential cofactor for the human body, for instance in the catabolism of tyrosine and the synthesis of catecholamines. Regular consumption of fruit and vegetables is usually sufficient to cover the body's vitamin C needs.
Assay for the Analysis of β-Carotene in Serum/Plasma
| | | | | |
| --- | --- | --- | --- | --- |
| Order No. | Method | Number of tests | Analysis time | Characteristics |
| 32000 | HPLC | 100 | < 10 min | Fast and easy sample prep |
β-Carotene (Provitamin A) is a precursor form of vitamin A, and is an essential nutrient for the human diet. β-carotene is a herbal dye used as a colouring in the food industry and in vitamin products. In humans, all-trans-β-carotene is functionally and quantitatively the most important of about 20 carotenoids present in the blood plasma. This assay assures reliable separation of α-carotene, cis-β-carotene and all-trans-β-carotene as well as the carotenoids cryptoxanthin and lycopene.
Research-Use Products*
Assays for the Combined Analysis of Vitamin B1 and B6 in Whole Blood and Plasma/Serum*
Order No.
Method
Specimen
Number of tests
Analysis time
Characteristics
87000/RUO
LC-MS/MS
Whole Blood
480
2.5 min
With reaction vials
87000/DWP/RUO
LC-MS/MS
Whole Blood
480
2.5 min
With 96 deep well plates
52052/RUO
HPLC
Whole Blood
B6 also Plasma
100
< 9 min
Classic method
52052/Premix/RUO
HPLC
Whole Blood
B6 also Plasma
100
< 9 min
Simplified method with pre-mixed tubes
52952/UHPLC/RUO
UHPLC
Whole Blood
B6 also Plasma
1000
< 4 min
Simplified method with pre-mixed tubes,
high sample throughput
Assay for the Single Analysis of Vitamin B1 in Whole Blood*
| | | | | | |
| --- | --- | --- | --- | --- | --- |
| Order No. | Method | Specimen | Number of tests | Analysis time | Characteristics |
| 35000/RUO | HPLC | Whole Blood | 100 | < 6 min | No post-column derivatisation needed |
Assays for the Single Analysis of Vitamin B6 in Whole Blood and Plasma/Serum*
| | | | | | |
| --- | --- | --- | --- | --- | --- |
| Order No. | Method | Specimen | Number of tests | Analysis time | Characteristics |
| 31000/S/RUO | HPLC | Plasma/Serum | 100 | < 8 min | Fast and easy sample prep |
Assay for the Analysis of Vitamin B2 in Whole Blood*
| | | | | |
| --- | --- | --- | --- | --- |
| Order No. | Method | Number of tests | Analysis time | Characteristics |
| 37000/RUO | HPLC | 100 | < 9 min | Simultaneous determination of riboflavin, FMN and FAD |
Assays for the Analysis of Vitamin D3/D2 in Plasma/Serum*
Order No.
Method
Number of tests
Analysis time
Characteristics
62000/RUO
62000/1000/RUO
LC-MS/MS
200
1000
5 min
With online sample preparation