News
Welcome to the news page with updates from Chromsystems. We take a look at new products, relevant research and updates. We also share developments and trends in clinical HPLC and LC-MS/MS.
Please note: some products are not for diagnostic purposes and for research-use only.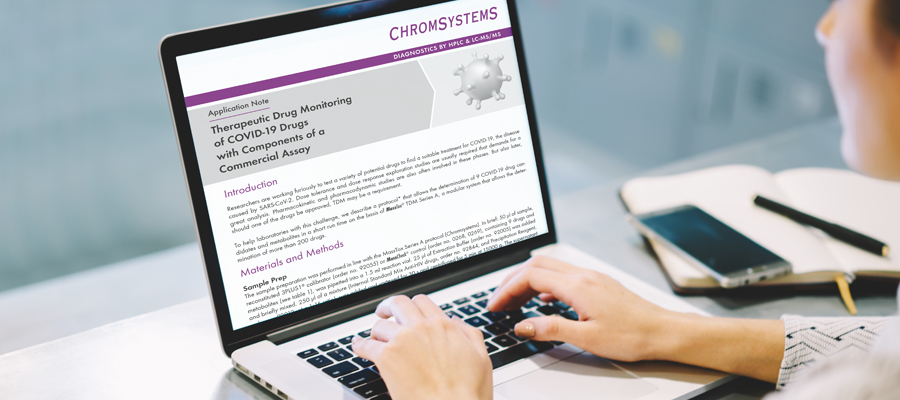 Study: Time to Rethink Amino Acid Analysis (AAA)
Quantitative AAA requires high sensitivity and specificity. Over the years, the gold standard technique has been Ion Exchange Chromatography (IEC). As with most techniques, IEC does have some drawbacks. A recent study by Carling et al suggests that it might be time to rethink quantitative amino acid analyses and compared IEC with LC-MS/MS as an alternative method.
---
New Website
We have launched a new website as part of our effort towards digitalisation - with more user-friendly functions and with a stable high-performance platform. It is of paramount importance to us that you find everything you need quickly and efficiently, with the best service possible, and that you can trust the technical safety of our website offering.
---
Educational Webinar: Challenging the Status Quo of Amino Acid Analysis in Plasma
Dr Rachel Carling, Scientific Director for Viapath, reports in this recorded webinar on a study that compares the current gold standard in quantitative amino acid analysis (AAA) - ion exchange chromatography (IEC) with LC-MS/MS.
---
New Product: Multilevel Calibrators and Controls for COVID-19 Drug Candidates
Chromsystems provides 6PLUS1 multilevel calibrators and MassCheck controls for 9 COVID-19 drug candidates to support clinical research.
---
App Note: COVID-19 Drugs by LC-MS/MS with Series A
Researchers are working furiously to test a variety of potential drugs to find a suitable treatment for COVID-19, the disease caused by SARS-CoV-2. For this quest, Chromsystems developed a protocol for the drug monitoring of 9 drug candidates with MassTox® TDM Series A.
---
Scientific Paper: Vitamin D Concentrations Are Lower in Patients with Positive PCR for SARS-CoV-2
A new study investigated the potential relationship between vitamin D blood concentrations and SARS-CoV-2 infections. Is the risk of an infection and the disease severity influenced by the vitamin D status? The scientists used the MassChrom® Vitamin D assay on a MassSTAR automation system.
---
New Labels: Chromsystems is updating its product labels to include UDI
We are already integrating the new UDI code on our labels as part of the Unique Device Identification (UDI) System. UDIs are required only in the United States so far, but will become mandatory in Europe when the new IVDR comes into effect.
---
Article: Drugs of Abuse Testing with LC-MS/MS
In this article we compare LC-MS/MS with GC-MS currently considered as gold standard. The benefits of LC-MS/MS are demonstrated and it is shown how a 100% hydrolysis of glucuroniated drugs can be achieved.
---
Article: Traceability in Clinical Diagnostics
The ultimate aim of traceability is to ensure that analytical results used for patient care are accurate as well as comparable over time and location. What we do to achieve that? Learn more in this article.
---
Article: Therapeutic Drug Monitoring in Intensive Care
This article discusses the importance of appropriate drug concentrations in antibiotic therapies to and help prevent over- and underdosing. This approach also reduces the risk of new multidrug resistant strains emerging and helps to provide the most effective drug dose to the patient.
---
Workshop Review: Drugs of Abuse Testing at TIAFT 2019
At TIAFT 2019, Chromsystems coducted a vendor workshop on drugs of abuse testing. Speaker were Dr Lewis Couchman and Dr Christoph Geffert, reporting on their experience and data evaluation with our drugs of abuse testing LC-MS/MS assay.
---
Workshop Review Analytica 2018: Drugs of Abuse Testing and Antibiotics
At analytica 2018, Chromsystems held a workshop on drugs of abuse testing and therapeutic drug monitoring of antibiotics. Speakers included Dr. Geffert with a comparison of the LC-MS/MS drugs of abuse testing assay with the gold standard GC-MS. Prof. Holdenrieder reported on an interdisciplinary program for the TDM of antibiotics.
---