trans,trans-Muconic Acid in Urine - HPLC
Order No.: 47000, for 100 tests
Parameters:
t,t-Muconic Acid
Occupational medicine
Low limit of quantification
Internal standard included
Easy, fast, reliable
CE-IVD validated product ready for IVDR within timeframes and transition periods specified by the IVDR-2022 regulation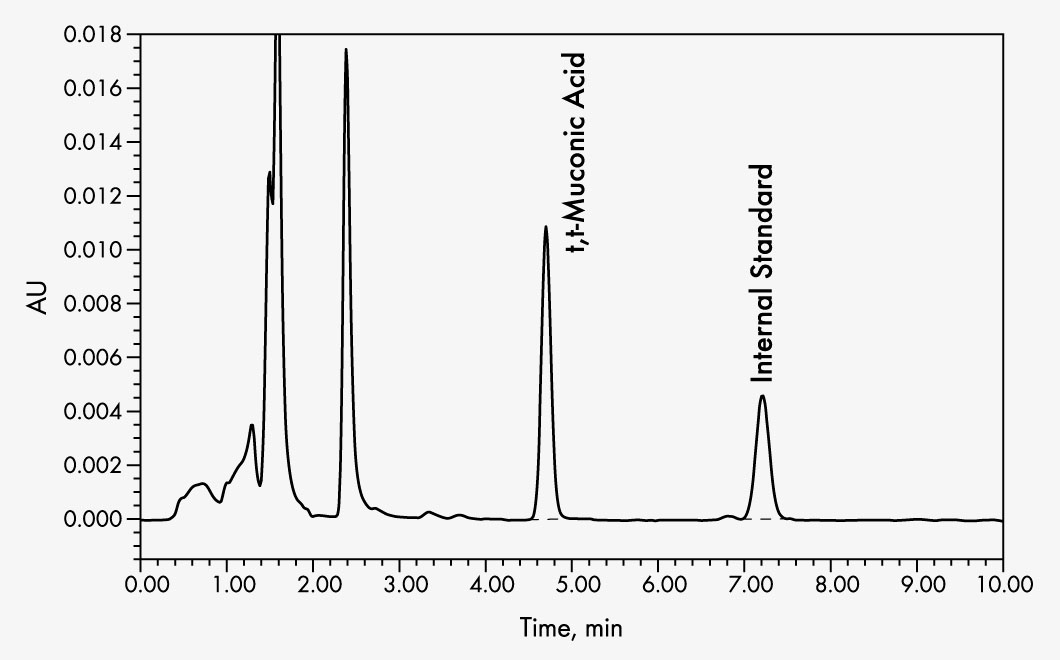 Clinical relevance
t,t-Muconic acid is an end product in the metabolism of benzene and is used as a biomarker for occupational monitoring of benzene exposure. Benzene is used in many different ways as a basic chemical for synthetic purposes and as a solvent. It is a toxic compound and has carcinogenic properties. It causes damage to the stem cells of bone marrow, which can induce leukaemia and lymphomas. Furthermore, t,t-Muconic acid is also important for biological monitoring of benzene because it also allows indirect verification of t,t-muconaldehyde, a metabolite that is also responsible for the toxicity of benzene.
Exposure equivalents for carcinogenic working materials (EKA values) can be used to assess exposure. These can be equated with the concentrations of the hazardous substance in the air and then compared with the technical standard concentration (TRK value).
Product advantages
Low limit of quantification
Custom-made internal standard
An easy, fast, and reliable method
This Chromsystems kit allows for the reliable and fast chromatographic determination of t,t-muconic acid using an isocratic HPLC system with UV detection. The sample preparation is based on efficient and selective purification with solid phase extraction. This includes the addition of a special internal standard to the sample with simultaneous pH adjustment and subsequent transfer to the SPE column. Sequenced washing steps are then performed to eliminate interfering substances. This ensures that the method maintains high levels of precision and reliability when quantifying the analyte. Finally, the t,t-muconic acid is eluted and stabilised simultaneously. This analysis method is very sensitive and allows the determination of concentrations upwards of 20 µg/l.
More Information
Method of Analysis
HPLC
Number of Tests
100
Limit of quantification
0.02 mg/l
Linearity
0.02 up to 10 mg/l
Recovery
93–98 %
Intraassay

CV < 1.5–1.7 %

Interassay

CV < 2.9–3.4 %

Analysis Time
< 17 min
Specimen
urine
Pre-analytic Treatment
Patient samples are stable up to 3 days at ambient temperature, at +2 to +8 °C up to 2 weeks and below -18 °C up to 3 months.
Sample Preparation

Pipette 250 µl urine +750 µl Internal Standard into a reaction vial, mix briefly (vortex).
Apply to the Sample Clean Up Column, centrifuge (1 min, ca. 250 x g), draw through entirely.
Apply 1 ml Wash Buffer 1 on the Sample Clean Up Column, centrifuge (1 min, ca. 250 x g).
Repeat the wash step using Wash Buffer 2 and Wash Buffer 3.
Add 1 ml Elution Buffer on the Sample Clean Up Column, centrifuge (1 min, ca. 250 x g) and collect the eluate.
Mix eluate briefly, inject 20 µl into the HPLC system.

Sample Stability
The prepared samples are stable at ambient temperature for 4 days, at +2 to +8 °C or below -18 °C up to 2 weeks.
Injection Volume
20 µl
Flow rate
1.1–1.3 ml/min
Column temperature
33-37°C
Wavelength
264 nm
Gradient
isocratic
Additional Info
Any HPLC system with UV detector is suitable.
Information

Exposition equivalents for carcinogenic substances = EKA

| | |
| --- | --- |
| t,t-Muconic acid: | 2 mg/l urine (correlates to an exposition of 1 ppm (3.25 mg/m3) benzene in the air) |

Please note
The freely available information on this website, in particular on the sample preparation, are not sufficient to work with our products. Please read instructions and warning notices on products and/or instruction manuals.
Parameter
t,t-Muconic Acid
Autosampler rinsing solution
water/methanol – 90/10
Pressure

The backpressure of a new column at a flow rate of 1.2 ml/min and temperature of 35 °C is about 120 bar and may increase with column age and/or use