Olanzapine and Desmethylolanzapine in Serum/Plasma - HPLC
Order No.: 26000, for 100 tests
Parameters:
N-Desmethylolanzapine, Olanzapine, Quetiapine
Low limit of quantification
Robust UV-VIS detection
Metabolite included
CE-IVD validated product ready for IVDR within timeframes and transition periods specified by the IVDR-2022 regulation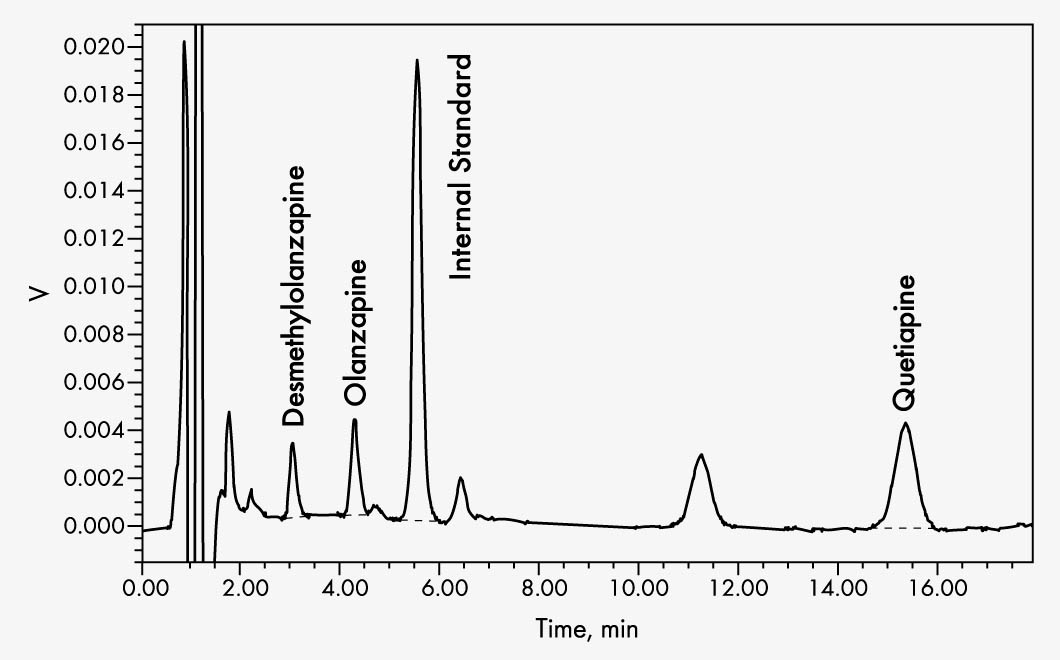 Olanzapine
N-Desmethylolanzapine
Quetiapine
Clinical relevance
Olanzapine and quetiapine are highly effective antipsychotic agents used to treat schizophrenic psychosis. Like clozapine, they are both atypical neuroleptics which are characterised by low levels of side effects in the extrapyramidal motor system (dyskinesia, Parkinson's disease). Quetiapine is structurally related to olanzapine and is approved as a neuroleptic, but it shows a different receptor profile.
It is essential that the serum levels of these psychotropic drugs be monitored to ensure an optimal therapeutic effect and to minimise any undesirable side effects resulting from overdose. Furthermore, patient compliance gets checked and confirmed by this procedure.
Product advantages
Low limit of quantification
Robust UV-VIS detection
Metabolite analysis included
This assay can be used to reliably determine the levels of olanzapine, its metabolite desmethylolanzapine, and quetiapine in serum or plasma. The sample preparation is based on an efficient and selective solid phase extraction including an internal standard. The chromatographic separation is run on an isocratic HPLC system with UV-VIS detector. When used with additional specific calibrators and controls, perazine and citalopram can also be determined in serum or plasma with this kit.
Our TDM Parameter Set Neuroleptics 1/XT from the MassTox® TDM Series A is available as an alternative for the measurement of these analytes using LC-MS/MS.
More Information
Method of Analysis
HPLC
Number of Tests
100
Please note
The freely available information on this website, in particular on the sample preparation, are not sufficient to work with our products. Please read instructions and warning notices on products and/or instruction manuals.
Lower Limit of Quantification

Olanzapine/Desmethylolanzapine: approx. 3.5 ng/ml

Quetiapine: approx. 11 ng/ml

Upper Limit of Quantification

Olanzapine/Desmethylolanzapine: up to 1000 ng/ml
Quetiapine: up to 5000 ng/ml



Recovery
Olanzapine/Desmethylolanzapine: 95 %; Quetiapine: 96 %
Intraassay

Olanzapine/Desmethylolanzapine: CV < 4.8 %
Quetiapine: CV < 4.1 %

Interassay

Olanzapine/Desmethylolanzapine: CV < 9.6 %
Quetiapine: CV < 7.2 %



Run Time
18 min
Specimen
Serum/Plasma
Pre-analytic Treatment
Patient samples are stable cooled (+4 °C) in the dark for at least 24 h. For longer storage keep samples at approx. -20 °C.
Sample Preparation

Extraction

Equilibrate the sample clean up columns with 1 ml Equilibration Buffer 1 following by 1 ml Equilibration Buffer 2.
Apply 1 ml sample and then 100 µl Internal Standard to the sample clean up column, draw through completely by centrifugation or suction, discard effluent.
Apply 1 ml Wash Buffer, draw through by centrifugaton or suction, discard effluent, repeat once.
Elute with 400 µl Elution Buffer.
Inject 50 µl eluate into the HPLC system.

Sample Stability
In glass vials and protected from light, the prepared samples are stable at room temperature (+18 to +30 °C) or refrigerated (+2 to +8 °C) for at least 14 days. Below -18 °C only quetiapin is stable.
Injection Volume
50 µl
Flow Rate
0.6 ml/min
Column Temperature
ambient (~ 25 °C)
Wavelength
254 nm
Gradient
isocratic
Additional Info
Any isocratic HLPC system with UV-VIS detector is suitable.
Parameter
N-Desmethylolanzapine, Olanzapine, Quetiapine