Itraconazole, Posaconazole and Voriconazole in Serum/Plasma - HPLC
Order No.: 27037, for 100 tests
Parameters:
Hydroxyitraconazole, Itraconazole, Posaconazole, Voriconazole
Itraconazole/posaconazole analysis upgraded with voriconazole
Tri-level controls available
Custom-made internal standard
CE-IVD validated product ready for IVDR within timeframes and transition periods specified by the IVDR-2022 regulation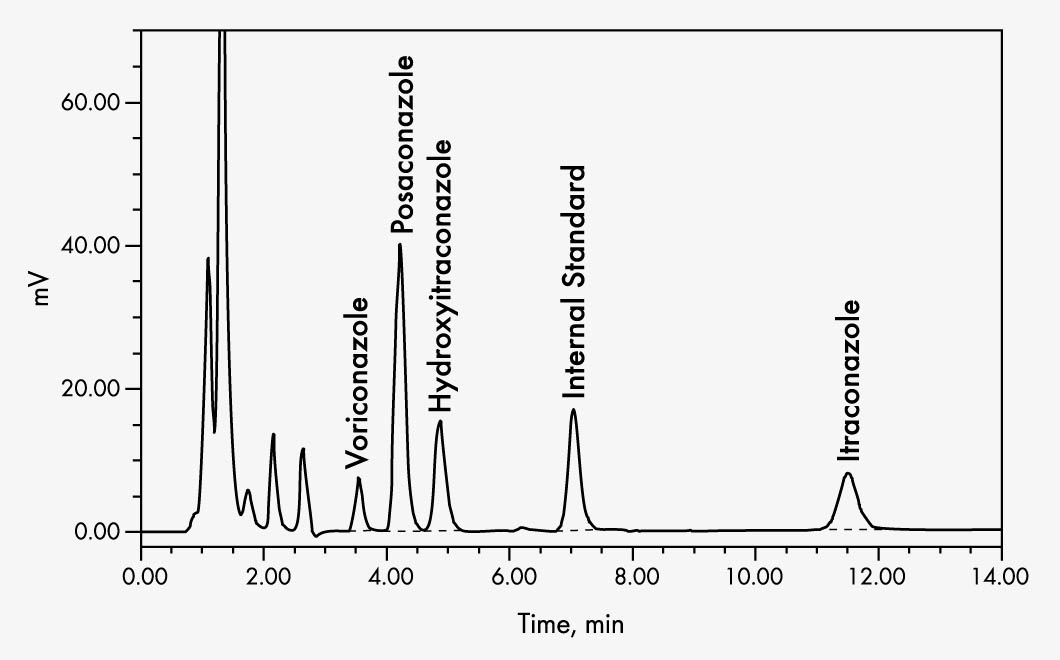 Itraconazole
Hydroxyitraconazole
Posaconazole
Voriconazole
Clinical relevance
In recent years there has been an increase in invasive fungal infections due to the growing number of people with immunosuppression. Candida and Aspergillus are the most common types of infection, but previously rare fungal infections such as fusariosis or zygomycosis are also on the rise. Options for oral antimycotic therapy have improved considerably with the advent of new drugs. These include second-generation triazoles such as posaconazole and voriconazole.
Posaconazole is used primarily in case of therapy-resistant mycoses or drug intolerances. Voriconazole is also effective against some itraconazole-resistant Aspergillus species and offers fungicidal activity against emerging fungal pathogens such as Scedosporium or Fusarium. All three azoles exhibit wide inter-individual variability in bioavailability, so monitoring of drug levels is required.
Product advantages
3PLUS1® Multilevel Calibrator Set available
Tri-level controls available
Tailor-made internal standard
This Chromsystems assay allows for reliable chromatographic determination of itraconazole, its active metabolite hydroxy-itraconazole, and posaconazole and voriconazole in only one isocratic HPLC run with fluorescence detection. Two very simple and efficient protein precipitation steps are used to separate interfering components and to obtain stable eluates. A tailor-made internal standard ensures reliable and precise quantification of the analytes.
These analytes - together with 9 further antimycotics - can also be determined using LC-MS/MS with the TDM Parameter Set Antimycotic Drugs from the MassTox® TDM Series A.
More Information
Method of Analysis
HPLC
Number of Tests
100
Please note
The freely available information on this website, in particular on the sample preparation, are not sufficient to work with our products. Please read instructions and warning notices on products and/or instruction manuals.
Lower Limit of Quantification

Itraconazole/OH-Itraconazole: 0.03 mg/l
Posaconazole: 0.02 mg/l
Voriconazole: 0.2 mg/l

Upper Limit of Quantification

Itraconazole/OH-Itraconazole: up to 10 mg/l
Posaconazole: up to 10 mg/l
Voriconazole: up to 20 mg/l

Recovery
101–105 %
Intraassay

CV = 1.1– 4.4 %

Interassay

CV = 2.4– 5.2 %

Run Time
Itraconazole/OH-Itraconazole: 13 min; Posaconazole/Voriconazole: 8 min
Specimen
Serum/Plasma
Pre-analytic Treatment
Storage life is up to 2 weeks at ambient temperature, at +2 °C to +8 °C up to 4 weeks. For longer storage (max. 3 months) keep samples below -18 °C.
Sample Preparation

Mix 100 µl serum/plasma, 25 µl Internal Standard and 25 µl Precipitation Reagent 1 in a reaction vial and vortex briefly.
Add 200 µl Precipitation Reagent 2 and mix 30 s (vortex).
Centrifuge 5 min at 15000 x g
Inject 20 µl of the supernatant into the HPLC system..

Sample Stability
The prepared samples can be kept in sealed glass vials for 1 week at +18 °C to +30 °C and for 2 weeks at +2 °C to +8 °C. Do not store refrigerated!
Injection Volume
20 µl (10 to 30 µl)
Flow Rate
1.2 ml/min
Column Temperature
ambient (~ 25 °C)
Wavelength

EX 261 nm

EM 366 nm

Gradient
isocratic
Additional Info
Any isocratic HPLC system with fluorescence detector is suitable.
Parameter
Hydroxyitraconazole, Itraconazole, Posaconazole, Voriconazole