Coenzyme Q10 in Serum/Plasma/Whole Blood - HPLC
Order No.: 68000, for 100 tests
No liquid-liquid extraction
No evaporation step
Stable standards and controls
CE-IVD validated product ready for IVDR within timeframes and transition periods specified by the IVDR-2022 regulation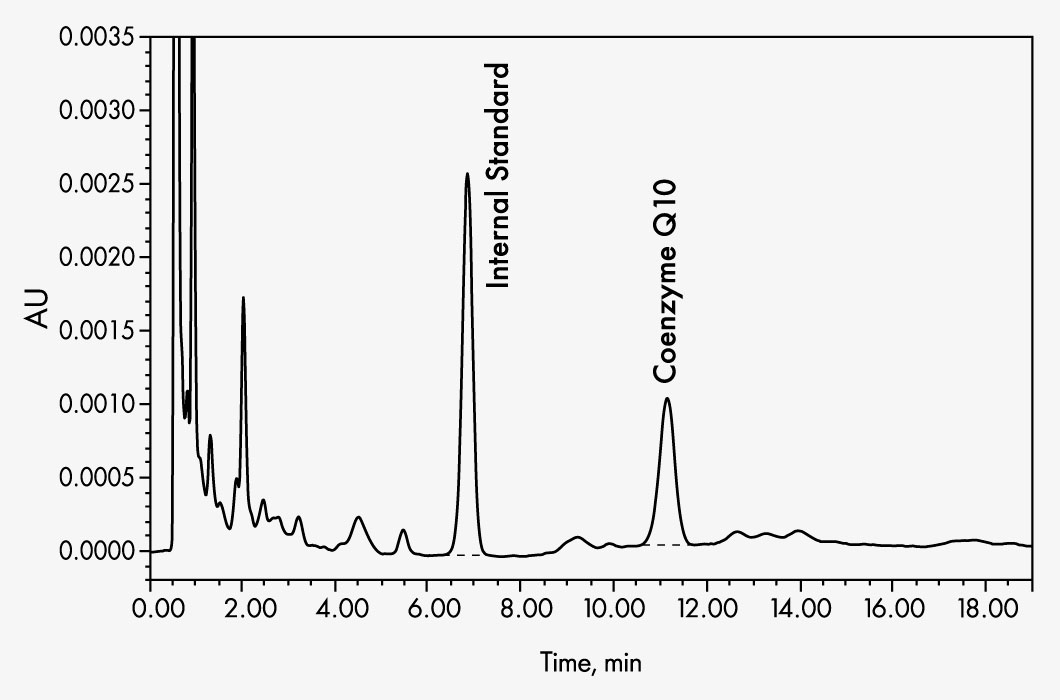 Clinical relevance
Coenzyme Q10 (ubiquinone, Q10 or UQ) is structurally related to vitamin E and is part of the mitochondrial respiratory chain in many organisms. It is essential for cellular energy production and also acts as an antioxidant in the body. Coenzyme Q10 is ingested with food, but it can also be produced inside the human body. Due to their high levels of energy turnover, heart, lungs and liver exhibit particularly high concentrations of Q10. Deficiencies are rare, but they can be caused by some muscular diseases (myopathy), and then require treatment. It is assumed that a Q10 deficiency may be a cause of cardiovascular disease.
Product advantages
No liquid-liquid extraction
No evaporation step
Stable calibrators and controls
This Chromsystems assay allows the reliable chromatographic determination of coenzyme Q10 in an isocratic HPLC run with UV detection. First, coenzyme Q10 is released by precipitating the proteins and then concentrated using solid phase extraction. Using this method, plasma extraction with neurotoxic hexane and evaporation of the supernatant is avoided. A stable internal standard is used to provide reliable quantification. The separately available quality controls are human matrix-based and produced according to strict standards.
More Information
Method of Analysis
HPLC
Number of Tests
100
Please note
The freely available information on this website, in particular on the sample preparation, are not sufficient to work with our products. Please read instructions and warning notices on products and/or instruction manuals.
Lower Limit of Quantification
20 µg/l
Upper Limit of Quantification
up to 20 000 μg/l
Recovery
80 %
Intraassay
CV ≤ 4.8 %
Interassay
CV ≤ 5.8 %
Run Time
14 min
Specimen
Plasma/Serum/Whole Blood
Pre-analytic Treatment
Keep cool for transport. Avoid repeated thawing and freezing of the sample. More information on the collection and storage of patient samples can be gathered from the specific literature.
Sample Preparation

Plasma/Serum

Place 500 μl plasma/serum/whole blood and 250 μl Internal Standard into a labeled, light protected reaction vial and mix briefly.
Add 500 μl Precipitation Reagent 1 and mix 30 s (vortex).
Incubate 10 minutes at +2 to +8 °C.
Centrifuge 5 minutes at 15 000 x g. It is not necessary to transfer the supernatant into a new reaction vial!
Add 100 μl Precipitation Reagent 2 and mix 30 s (vortex).
Centrifuge 10 minutes at 15 000 x g.
Apply complete supernatant to Sample Clean Up Column and draw through completely by centrifugation (2 minutes at 700 x g) or suction, discard effluent.
Draw 500 μl Wash Buffer 1 through the Sample Clean Up Column (1 minute at 700 x g), followed by 160 μl Wash Buffer 2 (2 minutes at 700 x g), discard effluents.
Centrifuge 250 μl Elution Buffer through the Sample Clean up Column in a labeled, light protected reaction vial (2 min at 700 x g).
Inject 50 μl of the eluate into the HPLC system.

Whole Blood

Place 250 µl cold dist. water into a labelled, light protected reaction vial, add 250 µl whole blood and mix briefly. To make sure that the blood is transferred completely rinse the tip several times.
Add 250 µl Internal Standard and mix briefly.
Add 500 µl Precipitation Reagent 1 and mix for 30 sec (vortex).
Incubate 10 min at +2 to +8 °C.
Centrifuge 5 min at 15000 x g. It is not necessary to transfer the supernatant into a new reaction vial!
Add 100 µl Precipitation Reagent 2 and mix for 30 sec (vortex).
Centrifuge immediately for 10 min at 15000 x g.
Apply complete supernatant from the precipitation step to a labelled sample clean up column and draw through quickly by centrifugation (2 min at 700 x g) or suction, discard effluent.
Draw 500 µl Wash Buffer 1 through the column by centrifugation (1 min at 700 x g) or suction, discard effluent.
Draw 160 µl Wash Buffer 2 through the column by centrifugation (2 min at 700 x g) or suction, discard effluent.
Change the collection vial, apply 250 µl Elution Buffer to the column, and draw through completely by centrifugation (2 min at 700 x g) or suction.
Inject 50 µl eluate into the HPLC system.

Sample Stability
The prepared samples are stable at room temperature up to 24 h.
Injection Volume
50 µl
Flow Rate
2.5 ml/min
Column Temperature
ambient (~ 25 °C)
Wavelength
275 nm
Gradient
isocratic
Additional Info
Any isocratic HPLC system with UV detector is suitable.
Parameter
Coenzyme Q10