CDT in Serum with Fast Elution - HPLC
Order No.: 54330/500, for 500 tests
Parameters:
Asialotransferrin, Disialotransferrin, Pentasialotransferrin, Tetrasialotransferrin, Trisialotransferrin
Short analysis time
Detects established variants
Exact separation of asialo-, disialo- and trisialotransferrin < 6 min
Manual or automated sample preparation with 96 well plate
CE-IVD validated product ready for IVDR within timeframes and transition periods specified by the IVDR-2022 regulation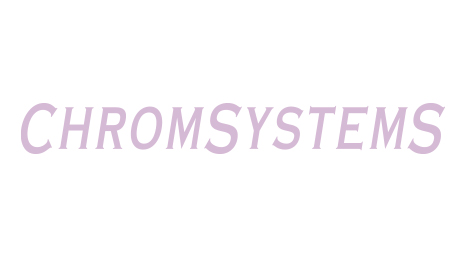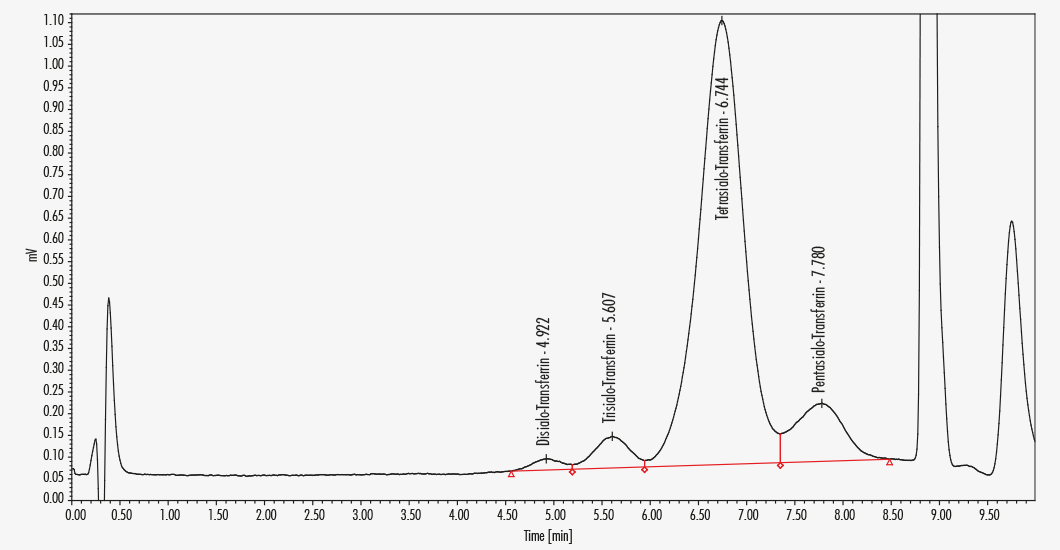 Clinical relevance

Excessive alcohol consumption leads to specific changes in the glycosylation pattern of transferrin. This results in the increasing formation of asialo- and disialotransferrin in the serum, which are referred to as Carbohydrate-Deficient-Transferrins (CDT). CDT and in particular disialotransferrin is regarded as the most specific and most sensitive laboratory marker of chronic alcohol abuse. A daily intake of more than 60 g ethanol (about 0.75 l wine) over a longer period elevates CDT values significantly. These return to normal after alcohol abstinence. This makes CDT an excellent parameter for controlling withdrawal treatment, forensic assessment or in occupational medicine.
Product advantages
Specific marker for chronic alcohol abuse
Run time of less than 10 min
Detection of genetic variants
Traceable to the IFCC reference measurement procedure
This Chromsystems assay is designed for the specific and fast determination of CDT in serum with a ternary HPLC gradient system. During sample preparation, lipoproteins are removed by precipitation with simultaneous iron saturation. The chromatography enables a very good separation of asialo-Tf, disialo-Tf and trisialo-Tf in less than 6 minutes. The transferrins are separated using two mobile phases, thereafter the column is cleaned with a third mobile phase.

This method is traceable to the IFCC reference measurement procedure (IFCC-RMP) and certified accordingly. It can therefore be used to determine CDTIFCC (CDT as disialotransferrin).
More Information
Method of Analysis
HPLC
Number of Tests
500
Limit of quantification

approx. 0.5 % Disialotransferrin

Linearity
up to at least 12 % Disialotransferrin
Intraassay

CV = 5.7 %

Interassay

CV = 6.3 %

Analysis Time
9.5 min
Specimen
Serum
Pre-analytic Treatment

Specimens should be kept cool for transport. Storage life is up to 1 week at +2 to +8 °C. For longer storage, deep-freeze below –18°C.

Sample Preparation

Place 200 µl serum/control into a reaction vial.
Add 100 µl reagent mix*, mix for 60 s (vortex).
Incubate for 30 min at +2 bis +8 °C.
Centrifuge for 10 min at 9000 x g.
Dilute 200 µl supernatant with 400 µl ultrapure water (HPLC grade).
Inject 150 µl into the HPLC system.

* The reaction mix is prepared from Neutralisation Buffer, Stabilisation Buffer, Precipitation Reagent 1 and 2 (25 µl each per sample)

Injection Volume
100-150 µl
Flow rate
2.5 ml/min
Column temperature
+30 °C
Wavelength
460 nm
Additional Info
For the Chromsystems HPLC analysis of CDT FE in serum (Fast Elution) a ternary HPLC gradient system with UV detection is necessary.
Please note
The freely available information on this website, in particular on the sample preparation, are not sufficient to work with our products. Please read instructions and warning notices on products and/or instruction manuals.
Parameter
Asialotransferrin, Disialotransferrin, Pentasialotransferrin, Tetrasialotransferrin, Trisialotransferrin