Mycophenolic Acid in Plasma/Serum - HPLC
Order No.: 46000, for 100 tests
Parameters:
Mycophenolic Acid
Fast and easy sample preparation
Removes interfering substances for a precise analysis
Detection of physiologically active MPA
CE-IVD validated product ready for IVDR within timeframes and transition periods specified by the IVDR-2022 regulation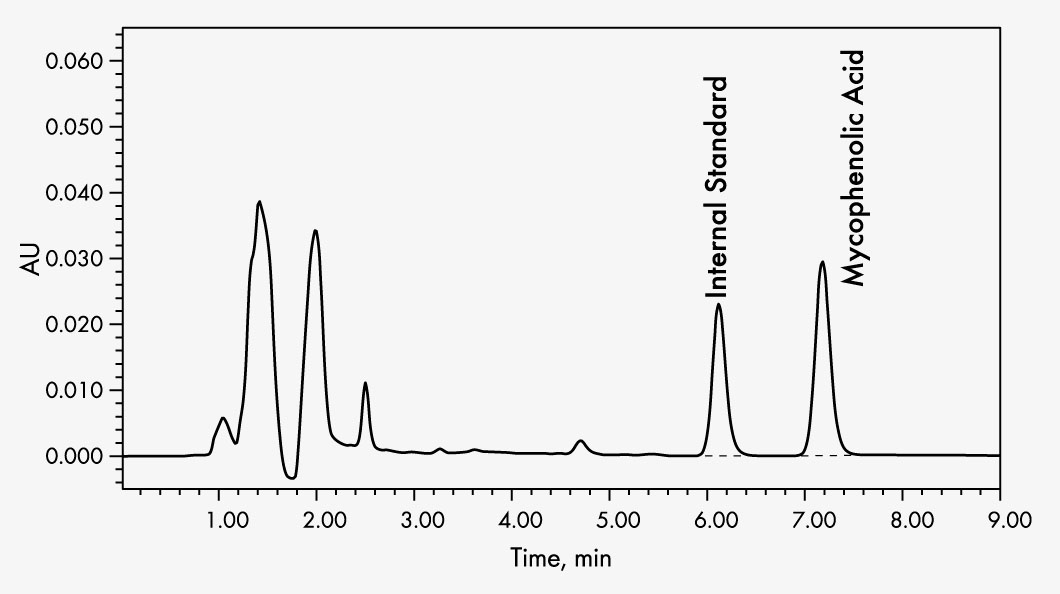 Clinical relevance
Mycophenolic acid (MPA) is used as an immunosuppressant agent to prevent organ transplant rejection. It is also used to treat autoimmune disorders with chronic inflammation of the skin (psoriasis), eyes, and the digestive tract (Crohn's disease).
Currently available drugs contain mycophenolate mofetil or mycophenolate sodium, which are both completely metabolised into the active metabolite MPA. MPA is partially further metabolised into the inactive mycophenolate glucuronide (MPAG), which then can undergo deglucuronidation in the enterohepatic circulation system and is available again in the body as an active metabolite. Therapeutic monitoring of MPA is required to reach blood concentrations within the therapeutic window to achieve a favourable ratio between therapeutic effects and side effects for the patient.
Product advantages
Simple and fast sample preparation
No interferences
This Chromsystems assay is designed to determine the active metabolite mycophenolic acid in plasma or serum using HPLC. Sample preparation is performed by means of selective solid phase extraction, in which physiologically inactive MPAG is reliably and clearly separated. A stable internal standard ensures exact quantification. The HPLC column separates interfering substances, including the antibiotic daptomycin, to guarantee reliable and reproducible results.
Our TDM Parameter Set Mycophenolic Acid from the MassTox® TDM Series A is available as an alternative for the measurement of MPA and MPAG using LC-MS/MS.
More Information
Method of Analysis
HPLC
Number of Tests
100
Please note
The freely available information on this website, in particular on the sample preparation, are not sufficient to work with our products. Please read instructions and warning notices on products and/or instruction manuals.
Limit of Quantification
0.1 mg/l
Linearity
up to 30 mg/l
Recovery
99 %
Intraassay
CV ≤ 1.2 %
Interassay
CV ≤ 3.3 %
Analysis Time
8–9 min
Specimen
plasma/serum
Pre-analytic Treatment
Patient samples are stable at +2 to +8 °C for 4 weeks, below -18 °C up to 3 months. Keep samples cool for transport.
Sample Preparation

Centrifuge specimens before sample preparation (10 min at 2800 x g)!
Precondition the Sample Clean Up Columns with 1 ml Equilibration Buffer 1 and draw through by centrifugation (approx. 30–60 s at 190 x g) or suction.
Repeat with 1 ml Equilibration Buffer 2.
Mix 250 μl plasma/serum sample with 250 μl Internal Standard.
Apply complete sample to the Sample Clean Up Column and draw through by centrifugation (1 min at 190 x g) or suction; discard effluent.
Draw 2 x 1 ml Wash Buffer through Sample Clean Up Column by centrifugation (2 min at 1100 x g) or suction; discard effluent.
Elute the mycophenolic acid with 400 μl of the Elution Buffer.
Inject 20–40 μl eluate into the HPLC system.

Sample Stability
The prepared samples are stable for 3 days at room temperature, at +2 to +8 °C up to 1 week. For longer storage keep samples below -18 °C.
Injection Volume
20–40 µl
Flow Rate
1 ml/min
Column Temperature
ambient (~ 25 °C)
Wavelength
215 nm
Gradient
isocratic
Additional Info

Any isocratic HPLC system with UV detector is suitable.

Parameter
Mycophenolic Acid