Catecholamines in Urine, Combined analysis - HPLC
Order No.: 6000/COMBI, for 100 tests
Parameters:
3-Methoxytyramine, Adrenaline (Epinephrine), Dopamine, Metanephrine, Noradrenaline, Normetanephrine
Short analysis time < 6 min
Only 1 HPLC column and 1 Mobile Phase for 2020/COMBI and 6000/COMBI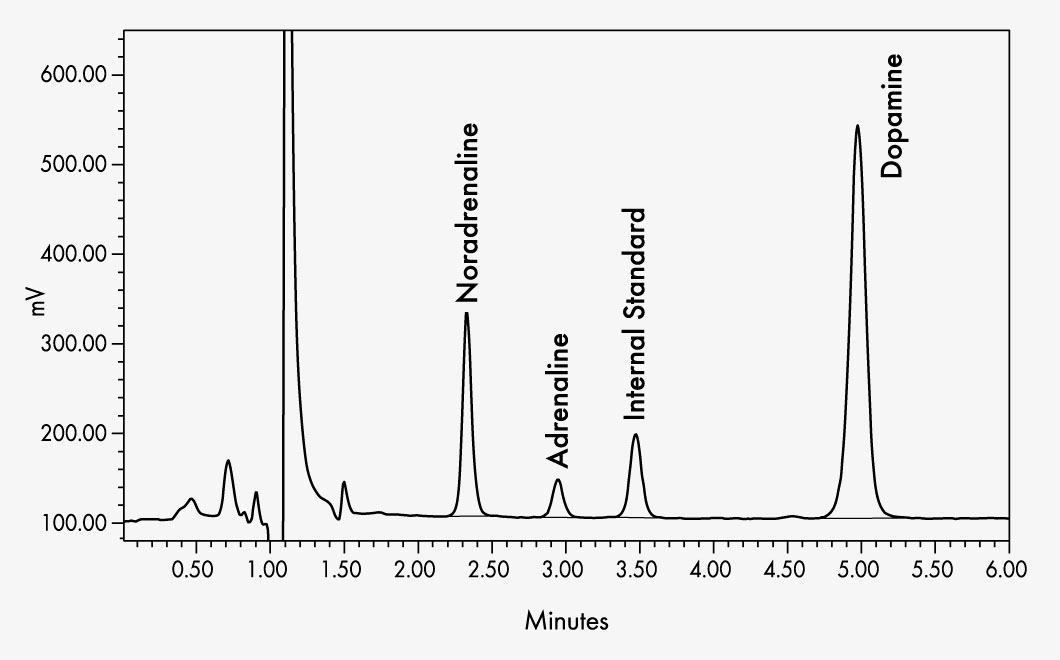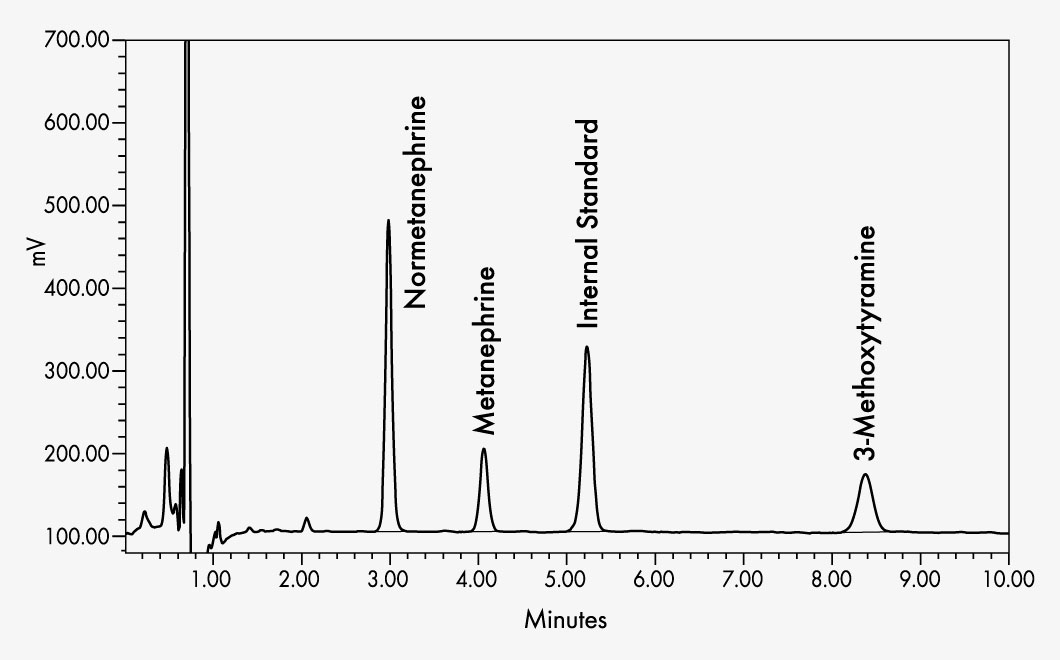 Adrenaline (Epinephrine)
Dopamine
Noradrenaline
3-Methoxytyramine
Metanephrine
Normetanephrine
Clinical relevance
The catecholamines adrenaline (epinephrine), noradrenaline (norepinephrine) and dopamine are biogenic amines, which play a central role in the body as hormones and neurotransmitters. Adrenaline and noradrenaline are produced in the adrenal medulla and the sympathetic nervous system. Dopamine is a neurotransmitter in the brain and acts as a local messenger substance in the peripheral nervous system.
Product advantages
Short analysis time of less than 6 minutes
No changes to setup are needed due to identical column and mobile phase
This kit enables the combined determination of catecholamines together with metanephrine in urine (Kit 2020/COMBI). It is an exceptionally sensitive and reliable method for detecting pheochromocytomas with an analysis time of less than 6 minutes. The highly selective separation column and the optimised mobile phase are used for the analysis of both catecholamines and metanephrines, so no change of the chromatographic system is required. The established specific sample preparation using solid phase extraction guarantees simple and safe handling and reproducible results.
More Information
Method of Analysis
HPLC
Number of Tests
100
Limit of quantification
1 μg/l
Linearity
1–1000 μg/l
Recovery
81-88 %
Intraassay

CV = 0.9-2.7 %

Interassay

CV = 2.1-4.1 %

Analysis Time
< 6 min
Specimen
Urine
Sample Preparation

Stabilisation

3 ml urine + 100 μl Internal Standard + 6 ml Neutralisation Buffer.
Adjust pH value.

Extraction

Apply the sample on the Sample Clean Up Column, discard effluent.
Fill up twice with ultrapure water (HPLC grade) and discard the effluent.

Elution

Apply 6 ml Elution Buffer on the Sample Clean Up Column and collect the eluate.
Add 200 μl Stabilisation Reagent.
Mix each eluate thoroughly.

HPLC Analysis


Inject 10 μl into the HPLC system.

Injection Volume
10 µl
Flow rate
0.9 ml/min
Column temperature
30 °C
Additional Info

For the combined HPLC analysis of catecholamines and metanephrines any isocratic HPLC system with electrochemical detector can be used.

Please note
The freely available information on this website, in particular on the sample preparation, are not sufficient to work with our products. Please read instructions and warning notices on products and/or instruction manuals.
Parameter
3-Methoxytyramine, Adrenaline (Epinephrine), Dopamine, Metanephrine, Noradrenaline, Normetanephrine
Potential
+580/+640 mV