β-Thalassemia Testing - HPLC
Order No.: 15440, for 1000 tests
Parameters:
HbA1c, HbA2, HbC, HbF, HbS
Simultaneous quantifications of HbS and HbC within 5.5 minutes
HbA2 will be quantified in presence of HbE and HbD
CE-IVD validated product ready for IVDR within timeframes and transition periods specified by the IVDR-2022 regulation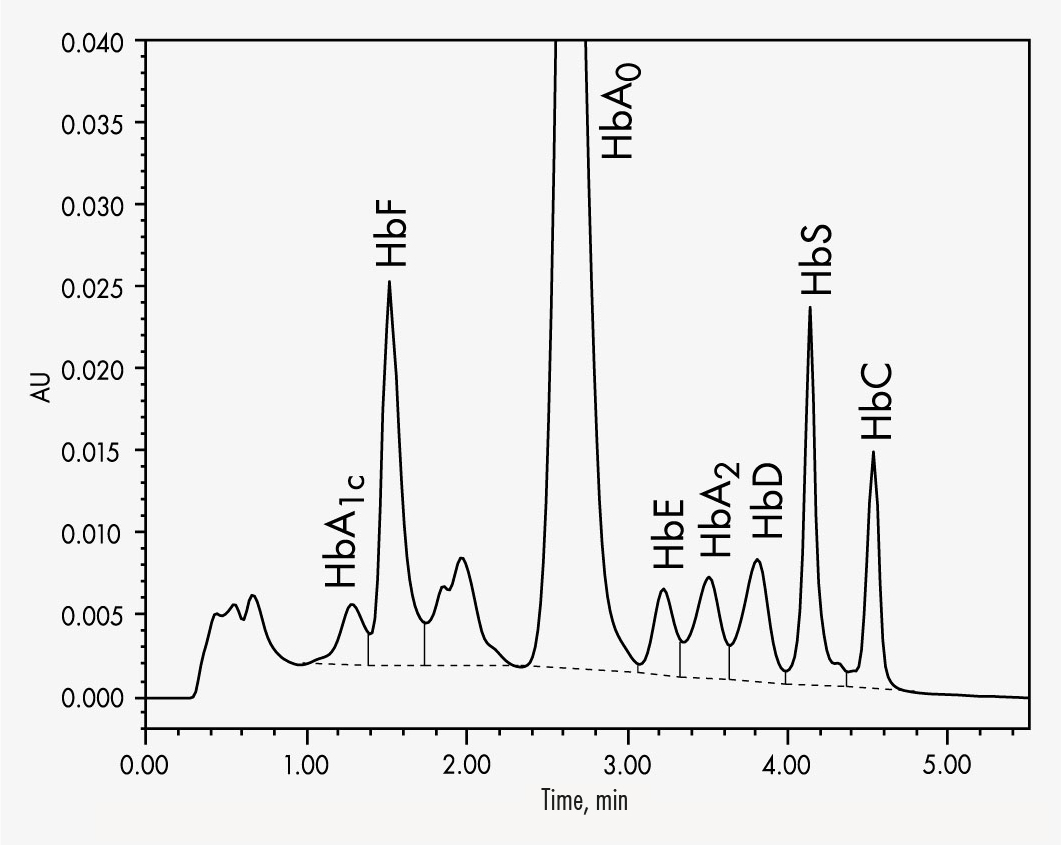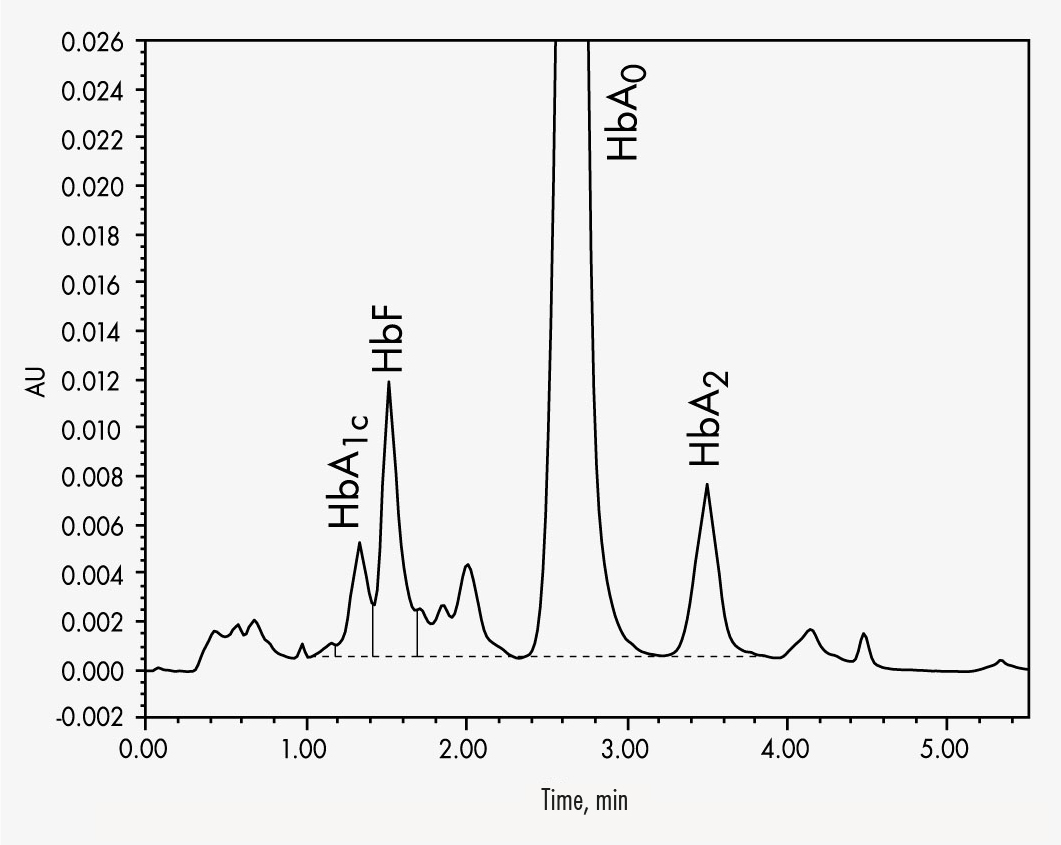 Clinical relevance
Thalassaemias are caused by impaired synthesis of one or more globin chains of the haemoglobin (consisting of 4 polypeptide chains), resulting in much less oxygen being bound to the haemoglobin molecules and transported through the body. Depending on which polypeptide chains are affected, the thalassaemias are named α, β, γ or δ thalassaemia. It is the β chain that is most frequently affected, so that this disorder is called β-thalassaemia. β-thalassaemia major is a homozygous form in which both alleles are severely mutated so that β chain synthesis is stopped completely, whereas β-thalassaemia minor is a heterozygous form resulting in an approximately 20 % reduction of polypeptide synthesis. To compensate this reduction, more HbA2 and HbF are produced: in β-thalassaemia major it is more HbF, and in β-thalassaemia minor primarily HbA2.
Depending on severity, patients may suffer from enlargement of the liver and spleen, growth disorders, severe inner organ damages and bone deformities. Further mutations are known that modify the peptide chains in other ways, leading to abnormal haemoglobin variants. The most common and clinically relevant variants are HbS, HbC and HbE. HbD also occurs relatively often. Combinations of various thalassaemias with different genetically related haemoglobin variants are also possible.
Product advantages
Simultaneous determination of HbS and HbC in less than 6 minutes
Quantification of HbA2 without interferences from HbD and HbE variants
The Chromsystems assay for β-thalassaemia testing allows the reliable quantification of HbA2 and HbF. The column's high separation capability allows the determination of the most common variants HbA1c, HbA2, HbC, HbF and HbS in less than 6 minutes. A column material specially designed for this specific separation process allows a stabilised separation of HbA2 from the other Hb-molecules even with aged columns. This helps to avoid misinterpretations and eliminate false quantifications and qualifications.
More Information
Method of Analysis
HPLC
Number of Tests
1000
Please note
The freely available information on this website, in particular on the sample preparation, are not sufficient to work with our products. Please read instructions and warning notices on products and/or instruction manuals.
Limit of Quantification

HbA2: 2 %
HbF: 1 %

Linearity

HbA2: up to 75 %
HbF: up to 82 %

Recovery
101 %
Intraassay
CV ≤ 4.2 %
Interassay
CV ≤ 10 %
Analysis Time
< 5.5 min
Specimen
Whole Blood
Pre-analytic Treatment
The patient samples are stable at room temperature for about 3 days, at +2 to +8 °C up to 1 week and below -18 °C up to 6 months. Once thawed, samples should not be re-frozen.
Sample Preparation

Dilute 5 to 8 µl whole blood with 1 ml Hemolysis Reagent, mix well (vortex).
Inject 10 to 20 µl of the hemolysis mixture into the HPLC system.

Sample Stability
Prepared samples can be stored at ambient temperature for about 24 hours, at +2 to +8 °C up to 36 h, below -18 °C up to 3 months.
Injection Volume
10-20 µl
Flow Rate
2.3 ml/min
Column Temperature
ambient (~ 25 °C)
Wavelength
415 nm
Gradient
binary
Additional Info

Any HPLC gradient system with UV/VIS detector is suitable.

Parameter
HbA1c, HbA2, HbC, HbF, HbS
Pressure
Maximum pressure: 140 bar
Wash Buffer

Order no.: 15445

β-Thalassemia Screening - HPLC