25-OH-Vitamin D3/D2 in Serum/Plasma - HPLC
Order No.: 38038, for 100 tests
Parameters:
25-OH-Vitamin D2, 25-OH-Vitamin D3
Vitamins D3 and D2 with one analysis
Improved separation
Quality controls and calibrator available
CE-IVD validated product ready for IVDR within timeframes and transition periods specified by the IVDR-2022 regulation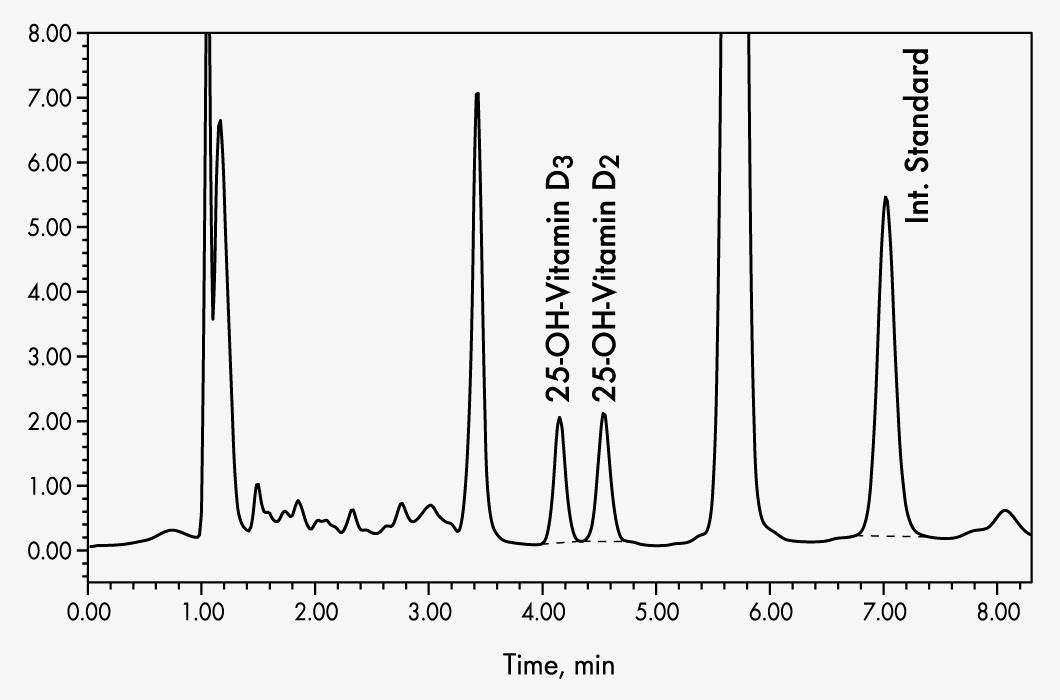 25-OH-Vitamin D2
25-OH-Vitamin D3
Clinical relevance
Vitamin D (cholecalciferol) is a recognised clinical chemical determinant associated with osteoporosis and osteopenia (reduction in bone density). It also plays a role in the body's immune response, cardiovascular diseases and some types of cancer. Therefore, vitamin D is highly important from a number of diagnostic perspectives.
25-OH-vitamin D3 is the primary metabolite in the human body and the direct precursor of the physiologically active form 1.25-(OH)2-vitamin D3. First-line treatment for vitamin D deficiency is nutritional supplements with vitamin D3 or vitamin D2. Vitamin D2 is easier to synthesise and is widely used as a supplement outside of the EU, and especially in the United States. Therefore, its determination in serum/plasma is also relevant.
Product advantage
Combined analysis of vitamins D3 and D2
Reliable separation
Reliable quantification with a stable internal standard
This Chromsystems kit allows the simultaneous and reliable chromatographic determination of 25-OH-Vitamin D3 and 25-OH-Vitamin D2 on an isocratic HPLC system with UV detection. By means of efficient protein precipitation and selective solid phase extraction interfering components are removed. A non-physiological derivative of vitamin D is used as a stable internal standard to produce reliable quantification. This way, reproducible and reliable results can be produced at a low expenditure of cost and time.
Alternatively, for high sample throughput Chromsystems offers an online method with selective online solid phase extraction (order no. 38900/1000) as well as methods for analysis using mass spectrometry (order no. 62000).
More Information
Method of Analysis
HPLC
Number of Tests
100
Limit of quantification

1.1 µg/l - 1.4 µg/l

Linearity
up to at least 250 µg/l
Recovery
25-OH-Vitamin D3: 86 %; 25-OH-Vitamin D2: 87 %
Intraassay

25-OH-Vitamin D3: CV 3.0 %
25-OH-Vitamin D2: CV 1.8 %

Interassay

25-OH-Vitamin D3: CV 3.3 %
25-OH-Vitamin D2: CV 4.6 %

Analysis Time
10 min
Specimen
Serum/Plasma
Sample Preparation

Mix 500 µl serum/plasma with 50 µl Internal Standard in a light-protected reaction vial.
Add 500 µl Precipitation Reagent, vortex-mix for 20 s.
Incubate 10 min to +4 °C.
Centrifuge 5 min at 15 000 x g.
Apply complete supernatant to the extraction column and draw through by centrifugation or suction, discard effluent.
Draw 2 x 1 ml Wash Buffer 1 through the column by centrifugation or suction, discard effluents.
Draw 75 µl Wash Buffer 2 through column by centrifugation or suction, discard effluent.
Elute 25-OH-Vitamin D3 and D2 with 200 µl Elution Buffer and dilute with 20 µl dist. water.
Inject 25 µl eluate into the HPLC system.

Sample Stability
At ambient temperature up to 3 days, at +2 to +8 °C up to 1 week. It is recommended to keep samples cool for transport. Freeze for longer storage (up to 1 year) at -20 °C.
Injection Volume
25 µl (10-50 µl)
Flow rate
0.7 ml/min
Column temperature
approx. 25 °C
Wavelength
265 nm
Additional Info
Isocratic HPLC system with UV detector.
Please note
The freely available information on this website, in particular on the sample preparation, are not sufficient to work with our products. Please read instructions and warning notices on products and/or instruction manuals.
Parameter
25-OH-Vitamin D2, 25-OH-Vitamin D3
Injection interval
12 min
Autosampler rinsing solution
Water:acetonitrile = 50:50