A Maximum of Traceability
The ultimate aim of traceability is to ensure that analytical results used for patient care are accurate as well as comparable over time and location. Thus, it can help improving patient care, disease control and prevention. It would also make data from different clinical studies much better comparable.[1]
Our Calibrators - Linked to Reference Standards of Higher Order
We as assay manufacturer are aware of our duty to supply calibrator material of highest quality. Consequently, we recognise and live our responsibility for establishing and documenting metrological traceability for our calibrator material. This means that our calibrators are usually linked to a common reference, a standard of higher order, whenever they are or become available. We document this in a traceability chain.
Every time a new calibrator batch is produced, the availability of reference standards is checked and the one with highest order used. This is ideally a NIST standard, however, if this standard is not available for specific compounds, we then establish the traceability chain with European Reference Material (ERM), certified reference material (CRM) or the manufacturer's certified reference standards.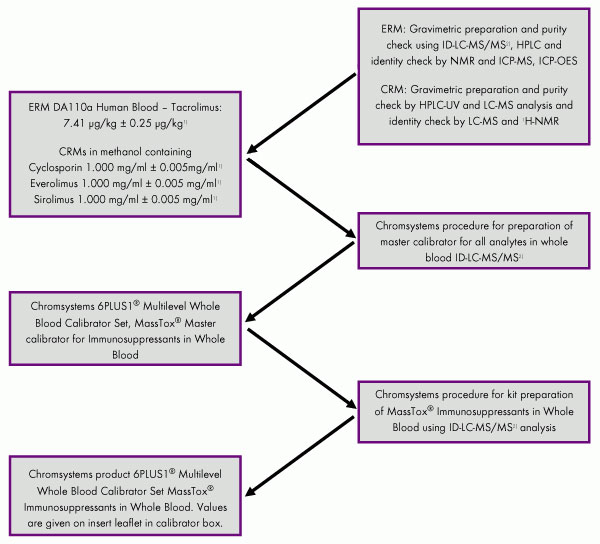 Figure: Example of a traceability chain for a 6PLUS1® Calibrator of Immunosuppressants
---
External Quality Assurance Schemes: Nearly 2000 Successful Individual Results
Another important component of our commitment to quality is the participation in many external quality assurance schemes that we successfully conduct every year. Last year alone, we submitted almost 2.000 individual results. Chromsystems customers can review the results in our download center.
Get in touch with us should you require any additional information on the traceability of our calibrator material or read your product information leaflet for the traceability of your calibrator material.
Last Update 18th of October 2018