Drugs of Abuse Testing - Workshop at TIAFT 2019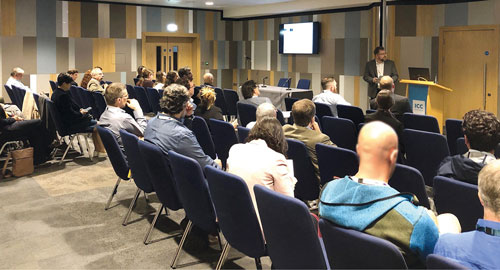 Chromsystems organised a Vendor Workshop on the 3rd of September at TIAFT in Birmingham.
The first speaker was Dr Lewis Couchman from Analytical Services International in London who presented data on a commercial assay for drugs of abuse analysis originally developed for triple quad mass spectrometers (QQQ). He demonstrated that the MassTox Drugs of Abuse Testing kit can be successfully employed not only on QQQ, but also on QTOF MS systems. The data show good sensitivity for most analytes such as 6-MAM on the QTOF MS system. Couchman also confirmed that the assay is easy to implement and simple to use. There are disadvantages and advantages for using QQQ or HR-MS, but the assay can employed with both mass spectrometry techniques.
Dr Christoph Geffert from Staber Laboratory Group in Dresden spoke of the one year experience his laboratory collected with a commercial LC-MS/MS assay and provided comparisons with established GC-MS methods. The lab used the commercial assay from Chromsystems for the determination of nearly 40 substances and showed that the results of the assay are comparable with those of reference methods. The assay can be also applied for both, confirmatory testing in medical toxicology and for abstinence checks in forensic toxicology. Advantages for daily laboratory routine of LC-MS/MS when compared to GC-MS are a less labor-intensive sample prep and reduced sample volumes.