Webinar Invitation: Automation in Therapeutic Drug Monitoring with MassSTAR
We cordially invite you to our free webinar to learn how you can benefit from a CE-IVD validated walkaway automation system for TDM.
Abstract: Automation in clinical LC-MS/MS increases throughput, provides reproducibility, while also eliminating manual errors. However, most automation systems do not take into account clinical requirements such as full regulatory compliance and traceability. In contrast, MassSTAR is a full CE-IVD walkaway solution that automates sample preparation with MassTox® TDM Series A – covering more than 100 parameters. In his talk, Dr. Maximilian Dietz gives key insights into the workflow and explains the benefits in respect of conformity, safety and flexibility.
Speaker: Dr. Maximilian Dietz, Research & Development Manager, Chromsystems
Date: Thursday, November 10, 3 pm (CET)
Duration: approx. 60 min
This is a webinar hosted by Chromsystems through "GoToWebinar".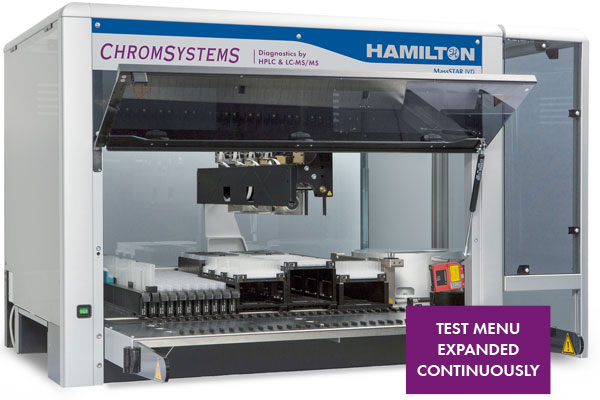 We will address any questions to Max you may have in a Q&A session.
If you are not able to join the live session, we encourage you to register, which will give you access to the on-demand version.
---
The complete MassSTAR testing menu
MassTox® TDM Series A
Antidepressants 1/EXTENDED (order no. 92713/XT)
Citalopram, N-Desmethylcitalopram, Duloxetine, Fluoxetine, Desmethylfluoxetine, Fluvoxamine, Mirtazapine, N-Desmethylmirtazapine, Paroxetine, Sertraline, N-Desmethylsertraline, Venlafaxine, O-Desmethylvenlafaxine
Antidepressants 2/Psychostimulants/EXTENDED (order no. 92715/XT)
Atomoxetine, Bupropion, Erythro-Dihydrobupropion, Threo-Dihydrobupropion, Hydroxybupropion, Clomethiazole, Dosulepin, N-Desmethyldosulepin, Methylphenidate, Mianserin, Milnacipran, Moclobemide, Opipramol, Reboxetine, Ritalinic acid, Tianeptine, Tranylcypromine, Trazodone, Vilazodone, Vortioxetine
Antiepileptic Drugs All-in-One Method (order no. 92721/XT)
Brivaracetam, Carbamazepine, Carbamazepine-10,11-epoxide, 10-OH-Carbamazepine, 10,11-Dihydroxycarbamazepine, N-Desmethylmesuximide, Ethosuximide, Felbamate, Gabapentin, Lacosamide, Lamotrigine, Levetiracetam, Oxcarbazepine, Perampanel, Phenobarbital, Phenylethylmalonamide (PEMA), Phenytoin, Pregabalin, Primidone, Rufinamide, Stiripentol, Sultiame, Theophylline, Tiagabine, Topiramate, Valproic acid, Vigabatrin, Zonisamide
Antimycotic Drugs/EXTENDED (order no. 92722/XT)
Anidulafungin, Caspofungin, Fluconazole, 5-Flucytosine, Isavuconazole, Itraconazole, Hydroxyitraconazole, Ketoconazole, Micafungin, Posaconazole, Voriconazole
Mycophenolic Acid (order no. 92716)
Mycophenolic acid, Mycophenolic acid glucuronide
Neuroleptics 1/EXTENDED (order no. 92712/XT)
Aripiprazole, Dehydroaripiprazole, Clozapine, N-Desmethylclozapine, Haloperidol, Olanzapine, N-Desmethylolanzapine, Quetiapine, Norquetiapine, Risperidone, 9-OH-Risperidone
Neuroleptics 2/EXTENDED 2 (order no. 92714/XT2)
Amisulpride, Benperidol, Brexpiprazole, Bromperidol, Cariprazine, Chlorpromazine, Chlorprothixene, Flupentixol, Fluphenazine, Guanfacine, Iloperidone, Levomepromazine, Loxapine, Lurasidone, Melperone, Perazine, Perphenazine, Pimozide, Pipamperone, Promethazine, Prothipendyl, Sertindole, Sulforidazine, Sulpiride, Thioridazine, Ziprasidone, Zotepine, Zuclopenthixol
---
MassTox® Immunosuppressants
Cyclosporin A, Everolimus, Sirolimus, Tacrolimus
---
MassChrom® Vitamin D
25-OH-Vitamin D2, 25-OH-Vitamin D3
---
Download Brochure
You would like to learn more about MassSTAR? Then you are welcome to download our brochure. After you have filled out the following form, the respective links to download your documents will be sent to the e-mail address provided.