Amino Acid Analysis – Now Also in Urine
Quantification of 52 amino acids and creatinine with LC-MS/MS in one run
MassChrom® Amino Acid Analysis in Urine is a new assay that can be used for a number of applications, such as the determination of renal aminoaciduria, and can be ideally combined with the plasma assay without needing to change the chromatographic set-up.
The assay is IVDR-ready, which means it has been developed and manufactured according to the new regulation (IVDR).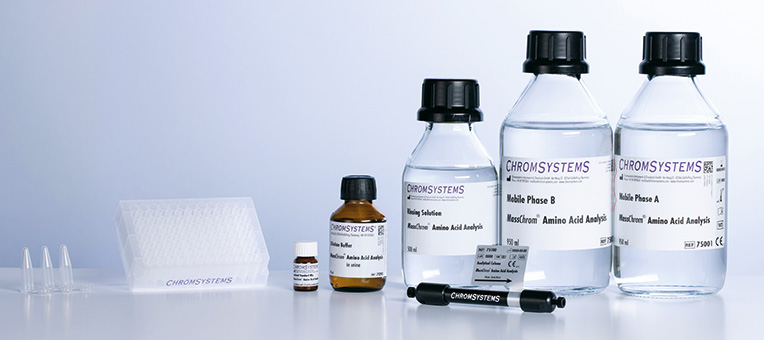 ---
Parameter Menu
Acetyltyrosine
Adenosylhomocysteine
Alanine
β-Alanine
α-Aminoadipic acid
α-Aminobutyric acid
β-Aminoisobutyric acid
γ-Aminobutyric acid
Anserine
Arginine
Argininosuccinic acid
Asparagine
Aspartic acid
Carnosine
Citrulline
Homocitrulline
Cystathionine
Cystine
Cysteine S-sulfate
Homocystine
Ethanolamine
Phosphoethanolamine
Glutamic acid
Glutamine
Glycine
Histidine
1-Methylhistidine
3-Methylhistidine
Kynurenine
Hydroxykynurenine
Leucine
Allo-Isoleucine
Isoleucine
Lysine
Hydroxylysine
Methionine
Ornithine
Oxoproline / Pyroglutamic acid
Phenylacetylglutamine
Phenylalanine
Phosphoserine
Pipecolic acid
Proline
4-Hydroxyproline
Saccharopine
Sarcosine
Serine
Taurine
Threonine
Tryptophan
Tyrosine
Valine

Creatinine *
*The assay allows the determination of the creatinine concentration in urine within the same run.
---
Reliable and Fast: MassChrom® Amino Acid Analysis in Urine by LC-MS/MS
Creatinine normalisation within the same run
Fast sample preparation without derivatisation
Short run times
Excellent separation of all isobaric compounds
Each analyte with its own internal standard
One chromatographic platform for plasma/serum and urine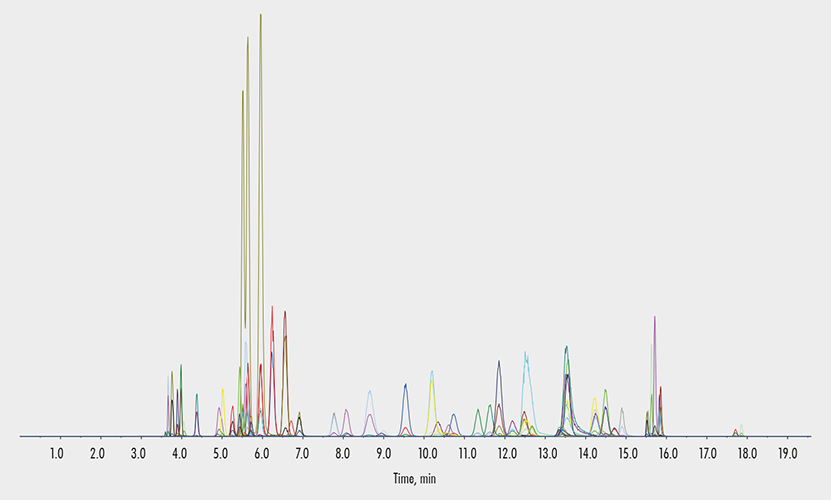 Chromatogram MassChrom® Amino Acid Analysis in Urine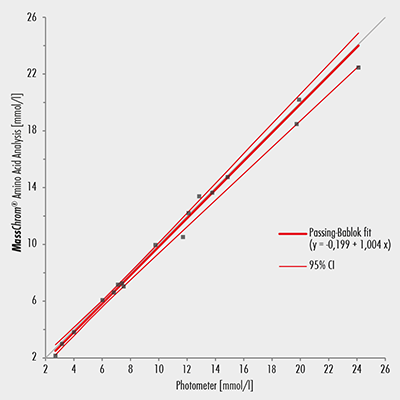 Creatinine Normalisation in the Same Run
For the normalisation of urine samples, creatinine is usually determined photometrically.
Depending on the laboratory, the urine is then diluted to 1 mmol/l creatinine before determining the amino acids. This is an error-prone and time-consuming step. However, MassChrom® AAA is the first assay on the market that allows creatinine determination together with the amino acids in the same LC-MS/MS run. This is not only faster and less error-prone, but it also eliminates the need for diluting the urine samples. A comparison of the methods shows a very good agreement of the creatinine values between the photometric method and our MassChrom® assay.
---
Complete Solution for the Amino Acid Analysis (AAA) in Plasma/Serum and Urine
MassChrom® Amino Acid Analysis in Urine can be ideally combined with our plasma assay. Both kits use the same chromatographic set-up that includes mobile phases, rinsing solution and analytical column. Laboratories can therefore determine these matrices in a single LC-MS/MS batch according to daily requirements and without changes to the instrument. Existing users of the plasma/serum assay extend their analysis by ordering the urine set and appropriate calibrators and controls.
---
Download Brochure
You need all the facts at a glance? Then you are welcome to download our brochure. After you have filled out the following form, the respective link to download your document will be sent to the e-mail address provided.