Vitamin B6 in Serum/Plasma - HPLC
Order No.: 31000/S/RUO, for 100 tests
Parameters:
Vitamin B6 (PLP, pyridoxal 5'-phosphate)
Suitable for plasma and serum
Fast and easy sample preparation
Low cost per test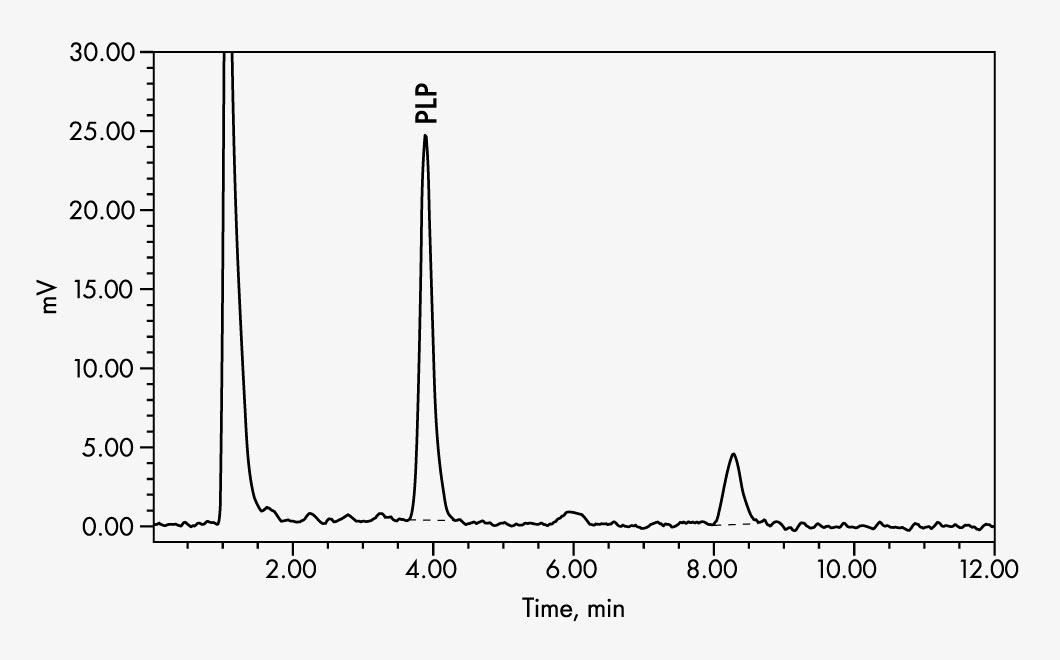 Vitamin B6 (PLP, pyridoxal 5'-phosphate)
The present reagent kit allows the rapid, easy and specific determination of vitamin B6 (pyridoxal-5'-phosphate, PLP) using a simple isocratic HPLC system. Instead of the usual, technically demanding post-column derivatisation, simple precolumn derivatisation is used. Plasma and serum research specimens (after addition of EDTA or heparin as anticoagulant) are suitable for this kit. The sample clean-up procedure includes an effective protein precipitation and extraction step with optimised conditions. Subsequent derivatisation (water bath, 60 °C) produces a fluorescent PLP-derivative. The chromatographic determination is run on an isocratic HPLC system with fluorescence detection. By this sample clean up procedure highly stable extracts are achieved, allowing the analysis of large batches.
More Information
Method of Analysis
HPLC
Number of Tests
100
Analysis Time
< 8 min
Specimen
Plasma/Serum
Sample Preparation

To 200 μl of plasma/serum (calibrator, control, research specimen) add 300 μl Precipitation Reagent in a light protected vial, vortex-mix for at least 30 s.
Incubate for 10 min at +4°C, then centrifuge for 5 min at 16000 x g.
Transfer 250 μl supernatant into new light protected vial.
Add 250 μl Neutralisation Reagent, mix briefly (a precipitation will form, do not centrifuge!).
Add 100 μl Derivatisation Reagent (contains cyanide), mix briefly.
Incubate for 20 min at 60°C (water bath).
Cool research sample down in cold water, then incubate for 10 min at +4°C; centrifuge for 2 min at 16000 x g.
Transfer supernatant into light protected autosampler vial, inject 25–50 μl into the HPLC system.

Sample Stability
Light protected the prepared research samples are stable up to 5 days at room temperature and up to 7 days at +2 to +8 °C. For longer storage (maximum 2 weeks) the prepared samples have to be stored below -18 °C.
Injection Volume
25–50 µl
Flow rate
1.0–1.2 ml/min
Column temperature
ambient (~ 25°C)
Wavelength
EX 320 nm, EM 415 nm
Please note
The freely available information on this website, in particular on the sample preparation, are not sufficient to work with our products. Please read instructions and warning notices on products and/or instruction manuals.
Parameter
Vitamin B6 (PLP, pyridoxal 5'-phosphate)
Mobile Phase

Order no.: 31001/RUO

Vitamin B6 in Plasma/Serum - HPLC