Vitamin B1 in Whole Blood - HPLC
Order No.: 35000/RUO, for 100 tests
Parameters:
Vitamin B1 (TPP, thiamine pyrophosphate)
No post-column derivatisation
Easy handling
Highly stable calibration standards and controls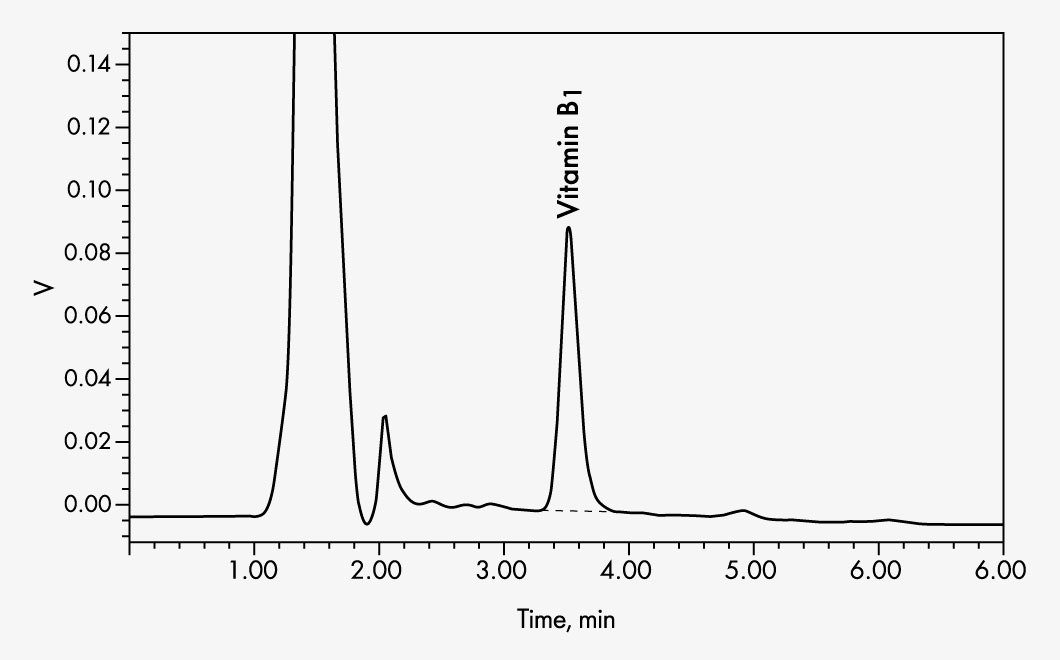 Vitamin B1 (TPP, thiamine pyrophosphate)
The present method allows the rapid and simple determination of thiamine diphosphate, an analogue form of vitamin B1, in an isocratic HPLC system using fluorescent detection. The usual post-column derivatisation which requires extensive equipment is replaced here by a simple pre-column derivatisation. Sample preparation is restricted to a single precipitation step after addition of the extraction buffer and subsequent derivatisation in a reaction vial. A selected HPLC column and a mobile phase optimised for this specific separation permit high performance in HPLC quantification.
More Information
Number of Tests
100
Analysis Time
approx. 5 min
Sample Preparation

To 200 μl whole blood/calibrator/control add 100 μl Extraction Buffer.
Mix briefly (vortex).
Add 300 μl Precipitation Reagent, mix 30 s (vortex).
Centrifuge 5 min at 9000 x g.
Pipette 200 μl of the derivatisation mix into a new vial.
Add 100 μl of the supernatant and mix briefly.
Add 100 µl Neutralisation Buffer.
Add 100 μl Stabilisation Buffer and mix briefly.
Let stand for 20 min, then inject 50 μl into the HPLC system.

Sample Stability
Research samples are stable for 24 hours at +2 to +8°C (light protected in a closed vial). For longer storage periods (up to 6 months) keep research samples frozen below -18°C.
Specimen
Whole Blood
Injection Volume
50 µl
Flow rate
1 ml/min
Column temperature
ambient (~25 °C)
Wavelength
EX 367 nm
EM 435 nm
Please note
The freely available information on this website, in particular on the sample preparation, are not sufficient to work with our products. Please read instructions and warning notices on products and/or instruction manuals.
Method of Analysis
HPLC
Parameter
Vitamin B1 (TPP, thiamine pyrophosphate)
Additional Info
For the analysis of vitamin B1 in whole blood every isocratic system with fluorescence detector is suitable.