Parameter Set Neuroleptics 1/EXTENDED - LC-MS/MS
Parameters:
9-OH-Risperidone, Aripiprazole, Clozapine, Haloperidol, N-Desmethylclozapine, N-Desmethylolanzapine, Olanzapine, Quetiapine, Risperidone
Encompasses 11 analytes
3PLUS1® Multilevel Calibrator Set available
Part of the modular system MassTox® Series A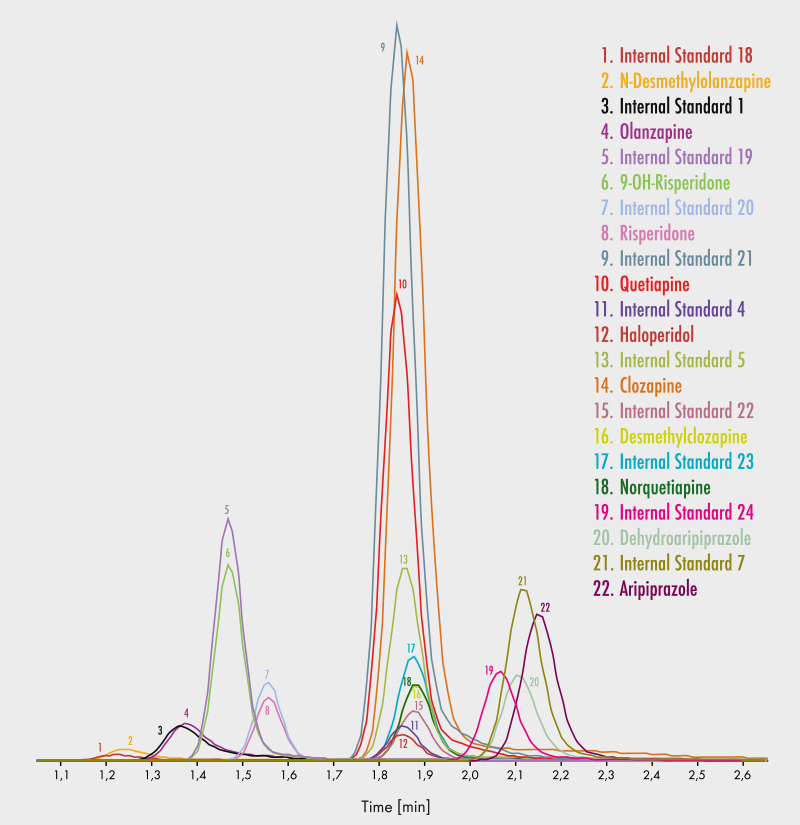 Aripiprazole
Dehydroaripiprazole
Clozapine
N-Desmethylclozapine
Haloperidol
Olanzapine
N-Desmethylolanzapine
Quetiapine
Norquetiapine
Risperidone
9-OH-Risperidone
The modular system MassTox® Basic Kit A in combination with the MassTox® Parameter Set for Neuroleptics 1/EXTENDED allows for the fast quantitative determination of aripiprazole, dehydroaripiprazole, clozapine, N-desmethylclozapine, haloperidol, olanzapine, N-desmethylolanzapine, quetiapine, norquetiapine, risperidone and 9-OH-risperidone in serum/plasma by LC-MS/MS. The use of stable isotopically marked and co-eluating internal standards ensures high performance of the analysis method.
For the analysis you require the MassTox® Basic Kit A, the specifc MassTox® Parameter Set and the analytical column MassTox® MasterColumn® A.
More Information
Analysis Time
3 min
Sample Preparation

Reconstitute the Internal Standard Mix.
Add 800 μl Internal Standard Mix to 12 ml Precipitation Reagent to form mixture A
Pipette 50 μl research sample/calibrator/MassCheck® control into a 1.5 ml reaction vial
Add 25 μl Extraction Buffer, mix briefly (vortex) and incubate 2 min.
Add 250 μl of mixture A and mix 30 s minimum (vortex) and centrifuge 5 min.
Dilute the supernatant with Dilution Buffer prior to injection depending on the instrument sensitivity

Sample Stability
Stability of research samples depends on the specific analyte. Further information can be optained from the instruction manual.
Specimen
Serum/Plasma
Injection Volume
0.2 – 50 µl
Gradient

0.00 - 0.20 min 20 % Mobile Phase 2
0.21 - 0.70 min 50 % Mobile Phase 2
0.71 - 2.30 min 70 % Mobile Phase 2
2.31 - 3.00 min 20 % Mobile Phase 2

Ionisation
ESI
MS/MS-Mode
MRM
Additional Info
We recommend to set the scan time to a value that allows to achieve a minimum of 10 data points over the whole peak width.
Please note
The freely available information on this website, in particular on the sample preparation, are not sufficient to work with our products. Please read instructions and warning notices on products and/or instruction manuals.
Method of Analysis
LC-MS/MS
Parameter
9-OH-Risperidone, Aripiprazole, Clozapine, Haloperidol, N-Desmethylclozapine, N-Desmethylolanzapine, Olanzapine, Quetiapine, Risperidone