MassChrom® 25-OH-Vitamin D3/D2 in Serum/Plasma - LC-MS/MS
Order No.: 62000/RUO & 62000/1000/RUO
Parameters:
25-OH-Vitamin D2, 25-OH-Vitamin D3
Suitable for every tandem-MS with sufficient sensitivity
Isotopically labelled internal standard
6PLUS1® and 3PLUS1® Multilevel Calibrator Sets
Online sample preparation
Minimal ion suppression effects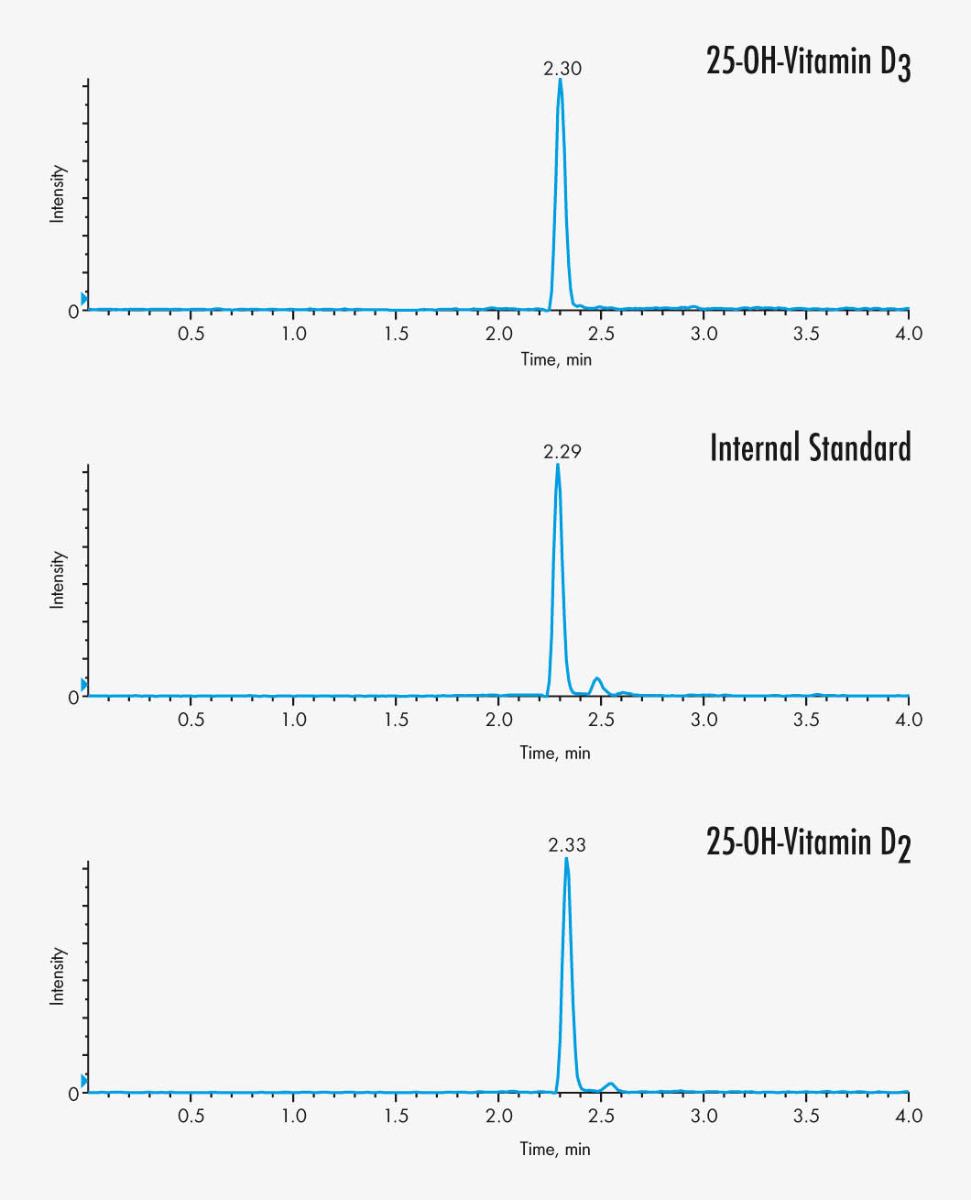 25-OH-Vitamin D2
25-OH-Vitamin D3
This reagent kit allows for the specific analysis of 25-OH-vitamin D3 and 25-OH-vitamin D2 in serum and plasma by tandem mass spectrometry. Manual sample preparation is minimised and limited to simple and effective protein precipitation. A subsequent online trap column concentrates the analytes and separates interfering substances. A six-port-valve connects the trap column to an HPLC column which provides further purification. The use of atmospheric pressure chemical ionisation (APCI) and an isotopically labelled internal standard, plus the multilevel calibrators (6PLUS1®, 3PLUS1®) assures high performance and minimises ion suppression effects.
An upgrade for the determination of the epimeric forms of 25-OH-Vitamin D3 and 25-OH-Vitamin D2 is also available for this kit (see accessories).
Kit content 62000/RUO
Mobile Phase A, 1000 ml
Mobile Phase B, 1000 ml
Precipitation Reagent, 5 ml
Internal Standard, 40 ml
Rinsing Solution, 1000 ml
Reaction vials, 2 x 100 pcs.
Kit content 62000/1000/RUO
Mobile Phase A, 5 x 1000 ml
Mobile Phase B, 5 x 1000 ml
Precipitation Reagent, 5 x 5 ml
Internal Standard, 5 x 40 ml
Rinsing Solution, 2 x 1000 ml
Reaction vials, 10 x 100 pcs.
Analytical column, 1 pc.
Trap column, 2 pcs.
3PLUS1® 25-OH-Vitamin D3/D2 Multilevel Serum Calibrator Set (lyoph.), 4 x 1 ml
MassCheck® 25-OH-Vitamin D3/D2 Serum Control, Level I (lyoph.), 5 x 1 ml
MassCheck® 25-OH-Vitamin D3/D2 Serum Control, Level II (lyoph.), 5 x 1 ml
More Information
Analysis Time
5 min
Sample Preparation

Pipette 100 μl research sample/calibrator/MassCheck® control into a 1.5 ml reaction vial.
Add 25 μl Precipitation Reagent.
Add 200 μl Internal Standard and mix 20 s (vortex)
Incubate 10 min at +4 °C.
Centrifuge 5 min at 15000 x g.
Transfer 200 μl supernatant into an autosampler vial.
Inject 10–50 μl of the supernatant into the HPLC-MS/MS system.

Sample Stability
The prepared research samples are stable up to 4 days at room temperature and up to 1 week at +2 to +8 °C. For longer storage (maximum 2 weeks) deep-freeze the research samples below -18 °C.
Specimen
Serum/Plasma
Injection Volume
10 to 50 μl (mass spectrometer dependent)
Ionisation
APCI positive
MS/MS-Mode
MRM
Additional Info

LC-MS/MS parameters

Information

The trap column and the analytical column are linked to the mass spectrometer through a 2-position 6-port valve.

Please note
The freely available information on this website, in particular on the sample preparation, are not sufficient to work with our products. Please read instructions and warning notices on products and/or instruction manuals.
Method of Analysis
LC-MS/MS
Parameter
25-OH-Vitamin D2, 25-OH-Vitamin D3
Additional Info

HPLC parameters

Pump A delivers 100 % Mobile Phase A for loading the trap column.
Pump B delivers 100 % Mobile Phase A for separating analytes on the analytical column.

Flow

Pump A: 0.02–1.00 ml/min
Pump B: 0.60–1.00 ml/min