Upgrade for 3-epi-25-OH-Vitamin D3/D2 - LC-MS/MS
Order No.: Epimer Upgrade/RUO
Parameters:
25-OH-Vitamin D2, 25-OH-Vitamin D3, 3-epi-25-OH-Vitamin D2, 3-epi-25-OH-Vitamin D3
Upgrade for order no. 62000/RUO
Simultaneous analysis of
– 25-OH-D3, 3-epi-25-OH-D3
– 25-OH-D2, 3-epi-25-OH-D2
2 isotopically labelled internal standards
3PLUS1® Multilevel Calibrator Set and MassCheck® Controls
Online sample preparation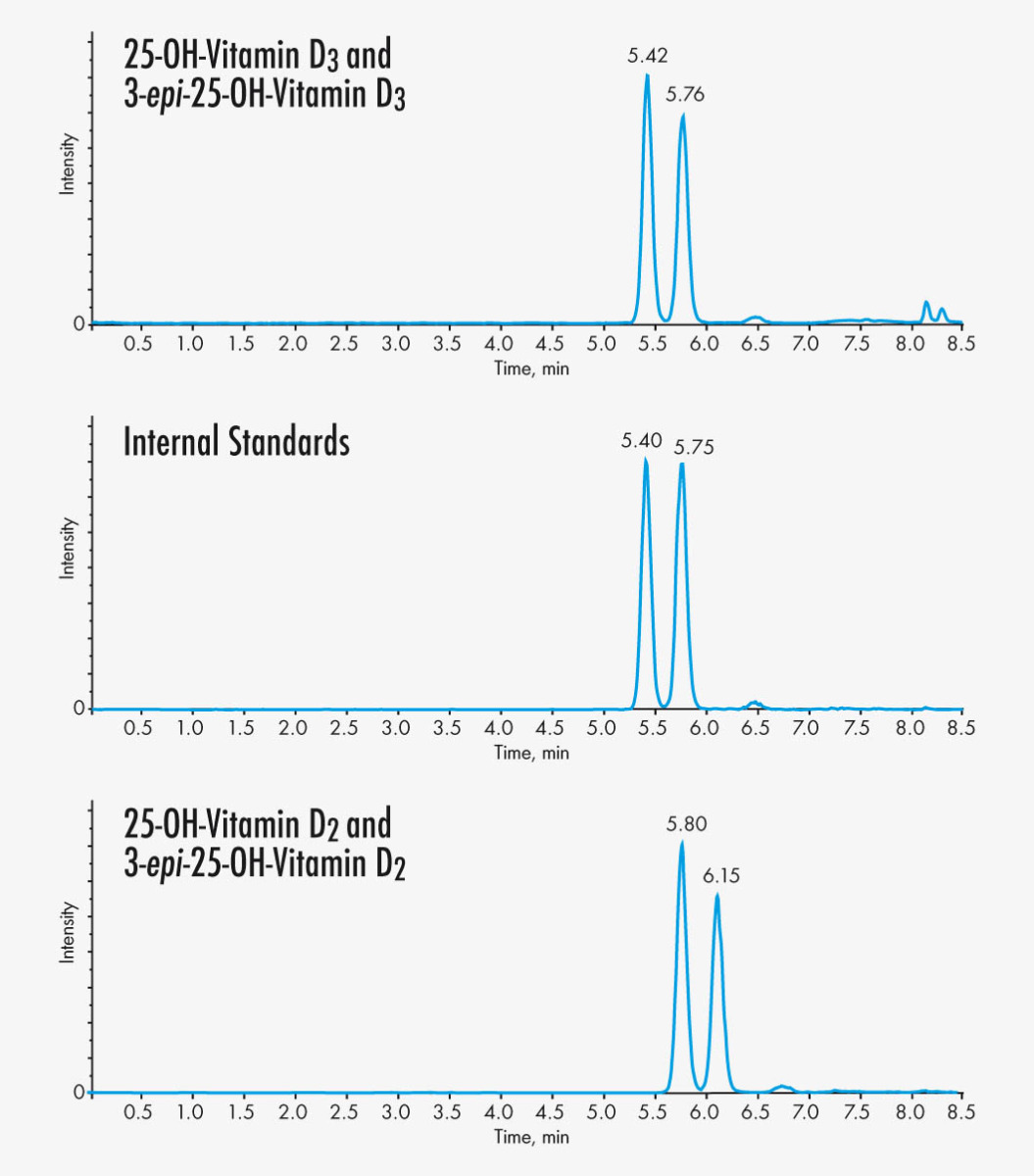 25-OH-Vitamin D2
25-OH-Vitamin D3
3-epi-25-OH-Vitamin D2
3-epi-25-OH-Vitamin D3
The upgrade to MassChrom® 25-OH-vitamin D3/D2 analysis allows for the separation of 25-Hydroxycholecalciferol and 25-Hydroxyergocalciferol from their epimeric forms 3-epi-25-OH-vitamin D3 and 3-epi-25-OH-vitamin D2, hence allowing for separate quantification by LC MS/MS. Manual sample preparation is still simple and effective protein precipitation. As with the 25-OH-vitamin D3/D2 determination, the analytes are enriched with the aid of a trap column ONLINE and thus, interfering matrix components are isolated. Chromatographic separation and further purification of all analytes is then performed by a special high resolution analytical column connected to the trap column by a valve. The method features the use of APCI (atmospheric pressure chemical ionisation) and the isotopically labelled internal standards adjusted to the epimeric forms. Matrix effects ("ion suppression") are minimised and the performance of the method is optimised. The 3PLUS1® multilevel calibrators also include both epimeric forms of 25-OH-vitamin D3/D2 and ensure high performance of results.
More Information
Analysis Time
8.5 min
Sample Preparation

Pipette 100 μl research sample/calibrator/MassCheck® control into a 1.5 ml reaction vial.
Add 25 μl Precipitation Reagent.
Add 200 μl Internal Standard and mix 20 s (vortex).
Incubate 10 min at +4 °C.
Centrifuge 5 min at 15000 x g.
Transfer 200 μl supernatant into an autosampler vial.
Inject 10–50 μl of the supernatant into the HPLC-MS/MS system.

Sample Stability
The prepared research samples are stable up to 4 days at ambient temperature and up to 1 week at +2 to +8 °C. For longer storage (maximum 2 weeks) deep-freeze the research samples below -18 °C.
Specimen
Serum/Plasma
Injection Volume
10–50 μl (mass spectrometer dependent)
Column temperature
40 °C
Ionisation
APCI positive
MS/MS-Mode
MRM
Additional Info

LC-MS/MS parameter

Please note
The freely available information on this website, in particular on the sample preparation, are not sufficient to work with our products. Please read instructions and warning notices on products and/or instruction manuals.
Method of Analysis
LC-MS/MS
Parameter
25-OH-Vitamin D2, 25-OH-Vitamin D3, 3-epi-25-OH-Vitamin D2, 3-epi-25-OH-Vitamin D3
Additional Info

The reserach sample extracts are purified through a trap column and the analytes are subsequently separated on a high resolution analytical column. A binary gradient pump, a 2-position 6-way switching valve and a column oven are required. Through the use of an additional isocratic pump, the analysis time can be reduced to 8.5 min.