MassTox® Immunosuppressants in Whole Blood - LC-MS/MS
Order No.: 93000 & 93000/1200
Parameters:
Cyclosporin A, Everolimus, Sirolimus, Tacrolimus
Matrix effects are compensated by online sample preparation using the trap column technique and deuterated internal standards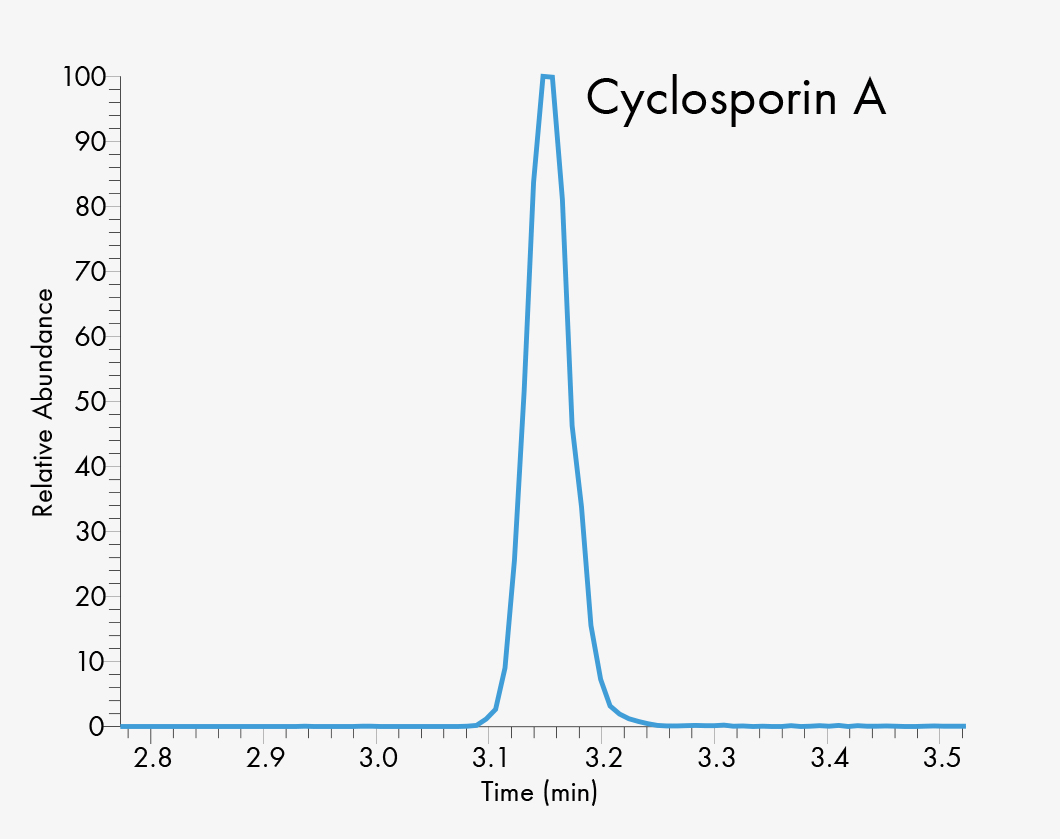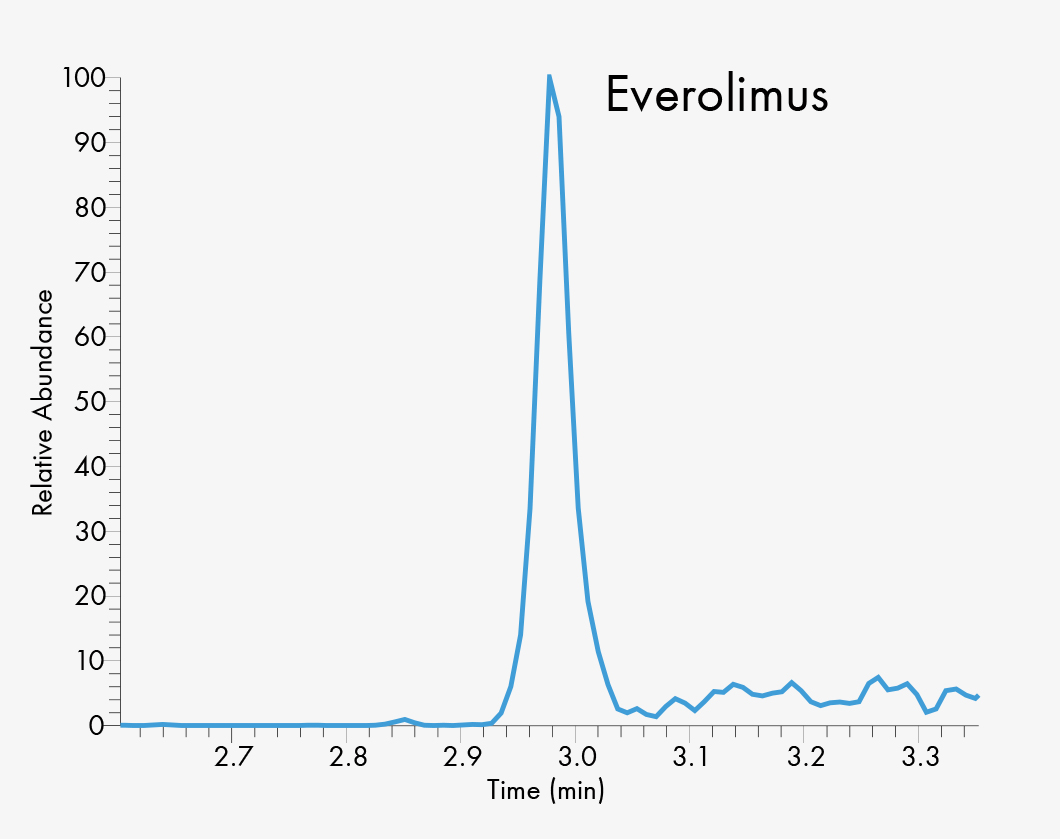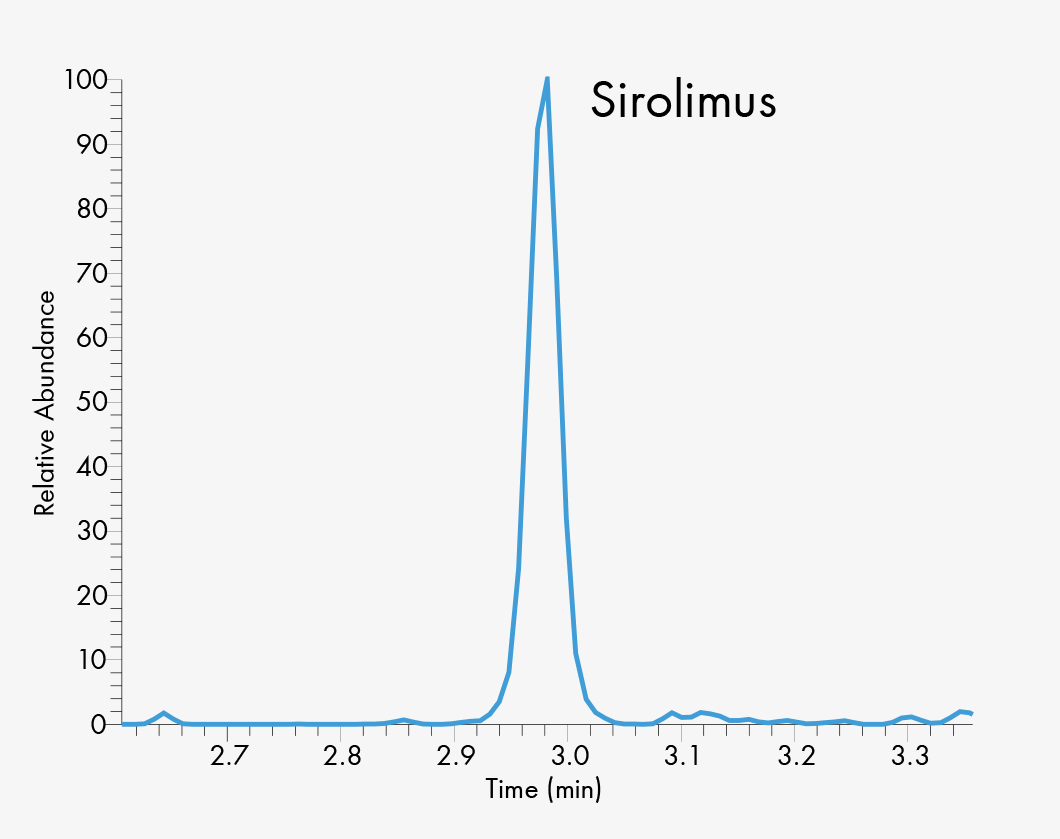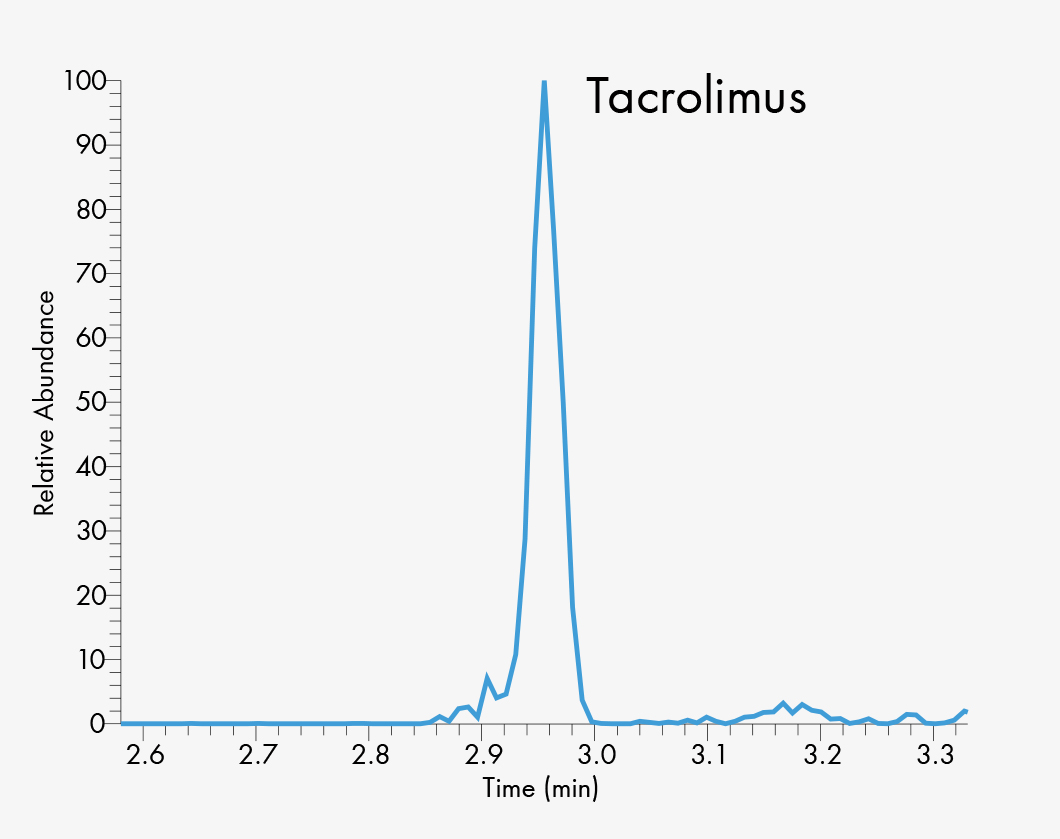 Cyclosporin A
Everolimus
Sirolimus
Tacrolimus
Clinical relevance
Immunosuppressants suppress the activity of the immune system in order to prevent organ transplant rejection. They are also used as therapeutic drugs for the treatment of autoimmune diseases. Therapeutic drug monitoring of immunosuppressants is indispensable for therapy following after organ transplantation. Besides mycophenolic acid, the immunosuppressants most commonly used following an organ transplantion include cyclosporin A (INN: Ciclosporin), tacrolimus (FK506), sirolimus and everolimus. Cyclosporin A and tacrolimus block the cellular signal transduction, which is required for the immune response, by inhibiting the enzyme calcineurin. For instance, it controls the synthesis of interleukin in the T cells during an immune response. In contrast, sirolimus, and its derivative everolimus, are calcineurin-independent and inhibit mTOR (mammalian target of rapamycin), an important enzyme of the intracellular signal transduction during the immune response.
The quantitative determination of these immunosuppressants should be performed only with LC-MS/MS, because the immunological tests vary considerably in terms of selectivity and specificity, and sometimes also detect inactive metabolites. The compensation of matrix effects also plays a key role in the diagnostic analysis of immunosuppressants from a complex matrix such as whole blood. It is therefore essential that interferences are reduced significantly to achieve precise and reliable quantification.
Product advantages
Reliable elimination of matrix effects
High selectivity and sensitivity
6PLUS1® Multilevel Calibrator Set and MassCheck® Controls available
The sample preparation is reduced to a simple and effective protein precipitation step and ensures a major minimisation of matrix effects. After this, the analytes are concentrated online using a trap column and interfering matrix substances are separated. The trap column is connected by a simple switching system to the HPLC column and the MS/MS system. The isotopically labelled internal standards compensate very effectively for the remaining ion suppression. Therefore, the analysis of the four immunosuppressants using this kit is robust, precise and reproducible. The use of 6PLUS1® multilevel calibrators from human whole blood and our MassCheck® controls ensures highly accurate results.
For accelerated analysis and very high sample throughput, we also offer the ONEMINUTE Method for LC-MS/MS (order no. 93900).
Kit content 93000
Mobile Phase A, 1000 ml
Mobile Phase B, 1000 ml
Precipitation Reagent, 100 ml
Internal Standard Set, 1 box
Extraction Buffer, 40 ml
Rinsing Solution, 1000 ml
Reaction Vials, light protected, 4 x 100 pcs.
Kit content 93000/1200
Mobile Phase A, 3 x 1000 ml
Mobile Phase B, 3 x 1000 ml;
Precipitation Reagent, 3 x 100 ml
Internal Standard Set, 3 x 1 box
Extraction Buffer, 3 x 40 ml
Rinsing Solution, 2 x 1000 ml
Reaction Vials, light protected, 12 x 100 pcs.
Analytical Column, 1 pc.
Trap Column, 2 pcs.
6PLUS1® Multilevel Calibrator Set Immunosuppressants, 7 x 2 ml
More Information
Limit of quantification

Cyclosporin A: < 5.0 µg/l
Everolimus: < 0.5 µg/l
Sirolimus: < 0.5 µg/l
Tacrolimus: < 0.5 µg/l

Linearity

Cyclosporin A: up to 2000 µg/l
Everolimus: up to 100 µg/l
Sirolimus: up to 100 µg/l
Tacrolimus: up to 100 µg/l

Analysis Time
4.5 min
Sample Preparation

Place 50 µl sample/calibrator/control into a 1.5 ml reaction vial.
Add 25 µl reconstituted Internal Standard Mix.
Add 100 µl Extraction Buffer mix 10 s (vortex) and incubate for 2 min at ambient temperature.
Add 250 µl Precipitation Reagent, mix 1 min (vortex) and incubate for 2 min at ambient temperature.
Centrifuge 5 min at 15000 x g.
Transfer the supernatant for analysis into the LC-MS/MS systems.

Sample Stability
up to 7 days at +2°C to 8°C
Specimen
Whole blood
Pre-analytic Treatment

Stored at +2 to +8 °C patient samples are stable up to 7 days.

Injection Volume
5–25 µl
Ionisation
ESI positive
MS/MS-Mode
MRM
Please note
The freely available information on this website, in particular on the sample preparation, are not sufficient to work with our products. Please read instructions and warning notices on products and/or instruction manuals.
Method of Analysis
LC-MS/MS
Parameter
Cyclosporin A, Everolimus, Sirolimus, Tacrolimus