Mass Spec Solutions for Metabolic Diseases
12th ISNS European Regional Meeting, Luxembourg Going Virtual
10-12 November 2021
Chromsystems provides complete CE-IVD solutions for the reliable diagnosis of metabolic diseases by LC-MS/MS. These range from newborn screening in dried blood spots through to the quantitative amino acid analysis (AAA) in serum, plasma and urine.
These CE-IVD assays will be consistenly available within the permitted scope of IVDR and are part of the large portfolio of our ready-to-use LC-MS/MS assays for clinical diagnostics.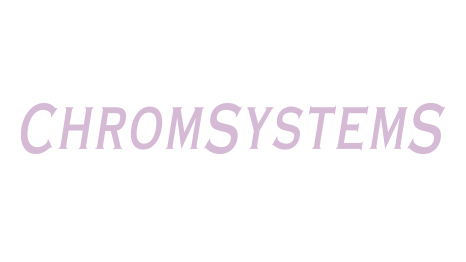 ---
Newborn Screening Assays
MassChrom® Amino Acids and Acylcarnitines in DBS
The Chromsystems assays allow the fast and reliable determination of amino acids and acylcarnitines from dried blood spot samples as part of the newborn screening for amino acid and fatty acid metabolic disorders using tandem mass spectrometry. There are several solutions available for any requirements: with well plates or well filter plates, derivatised or underivatised methods in combination with succinylacetone upgrades.
CE-IVD validated assays
Each analyte safeguarded by its own internal standard
Fast and robust sample preparation
Screening of many metabolic disorders such as PKU and MSUD in a single run
Assays with and without derivatisation available
Amino Acid Analysis (AAA)
MassChrom® Amino Acid Analysis in Plasma/Serum and Urine*
Chromsystems provides assays for the quantitative amino acid analysis in serum/plasma as well as urine. Both methods use the same chromatographic setup, enabling the determination of plasma and urine samples with one LC-MS/MS batch.
The key characteristics of both assays:
Fast sample preparation without derivatisation
Short run times
Excellent separation of all isobaric compounds
Each analyte safeguarded by an internal standard
One chromatographic platform for both, plasma/serum and urine samples
The plasma assay covers 48 and the urine assay 52 amino acids. The urine assay also allows the determination of creatinine within the same run, eliminating the need for a separate photometric determination for urine normalisation.
This assay offers alternatively the flexibility to be used for PKU and MSUD testing only – with an even faster run time of 8-9 minutes.
Creatinine normalisation of urine samples within the same run
---
Download Our Metabolic Diseases Brochures
You need all the facts at a glance? Then you are welcome to download our newborn screening and amino acid analysis brochures for plasma and urine testing.
After you have filled out the form, the respective links to download your documents will be sent to the e-mail address provided.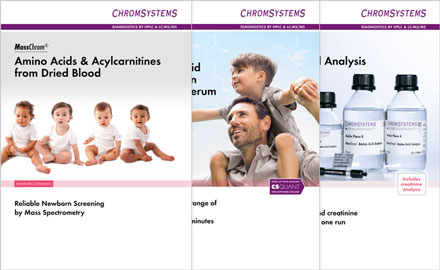 ---
*Preview: MassChrom® Amino Acid Analysis in Urine
Any Questions?
If you are interested in any further information feel free to write us your questions.
Contact Chromsystems